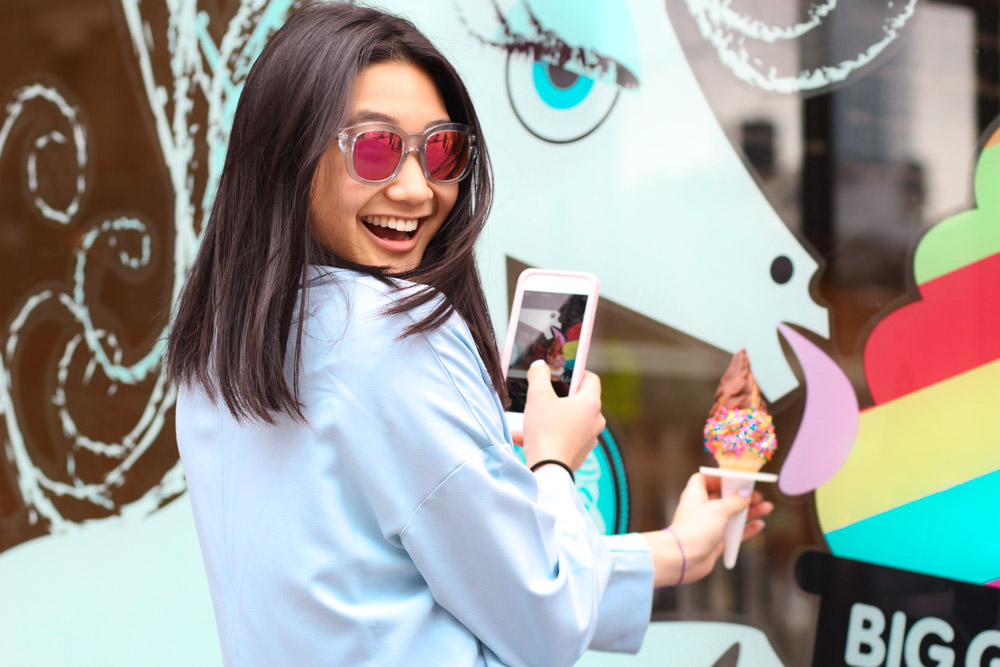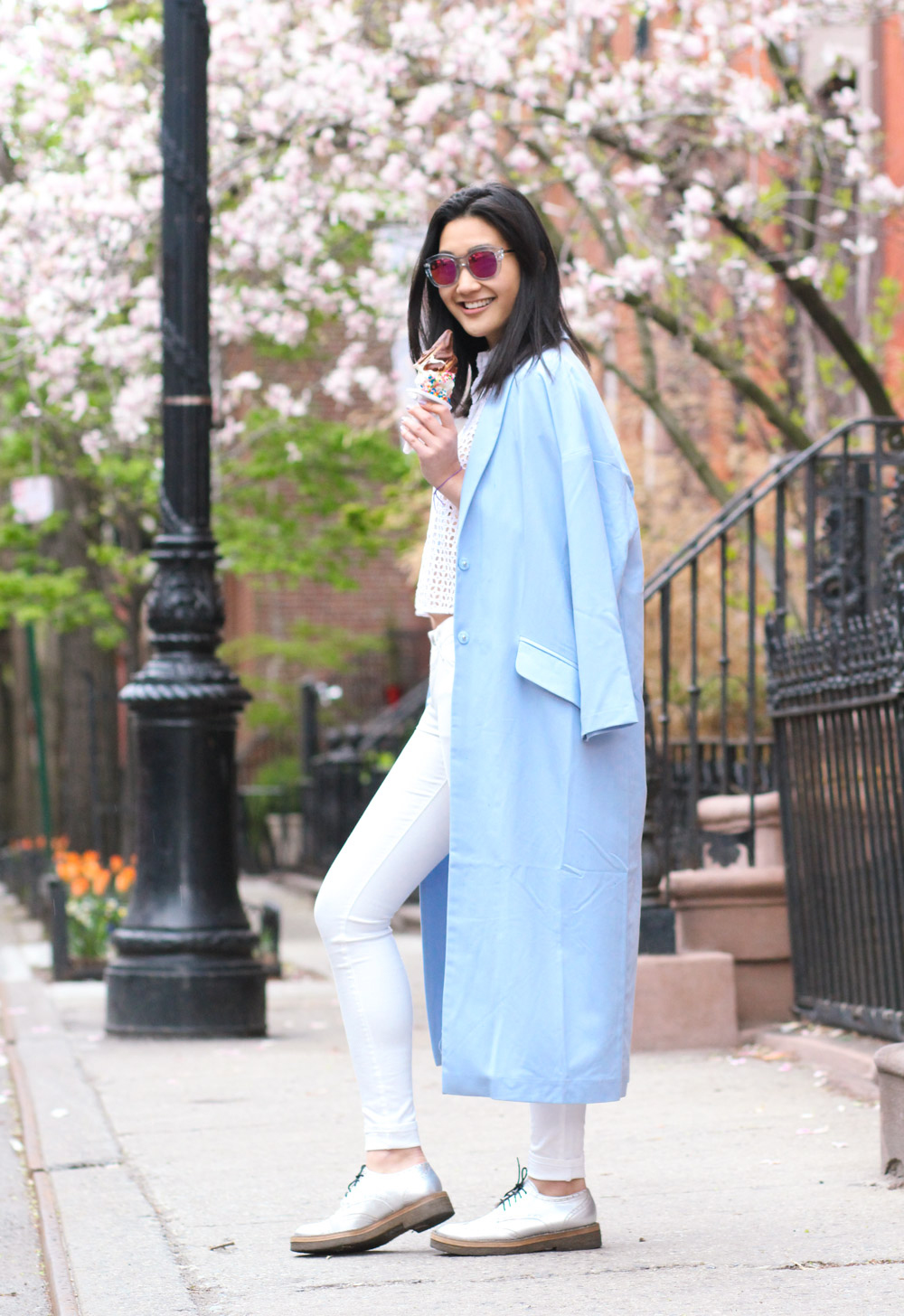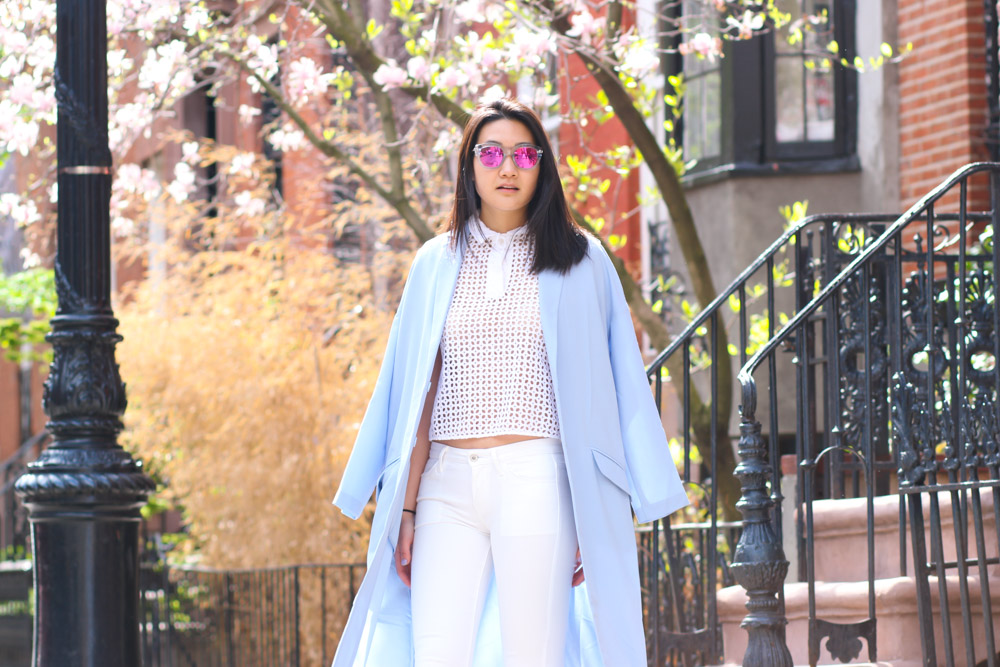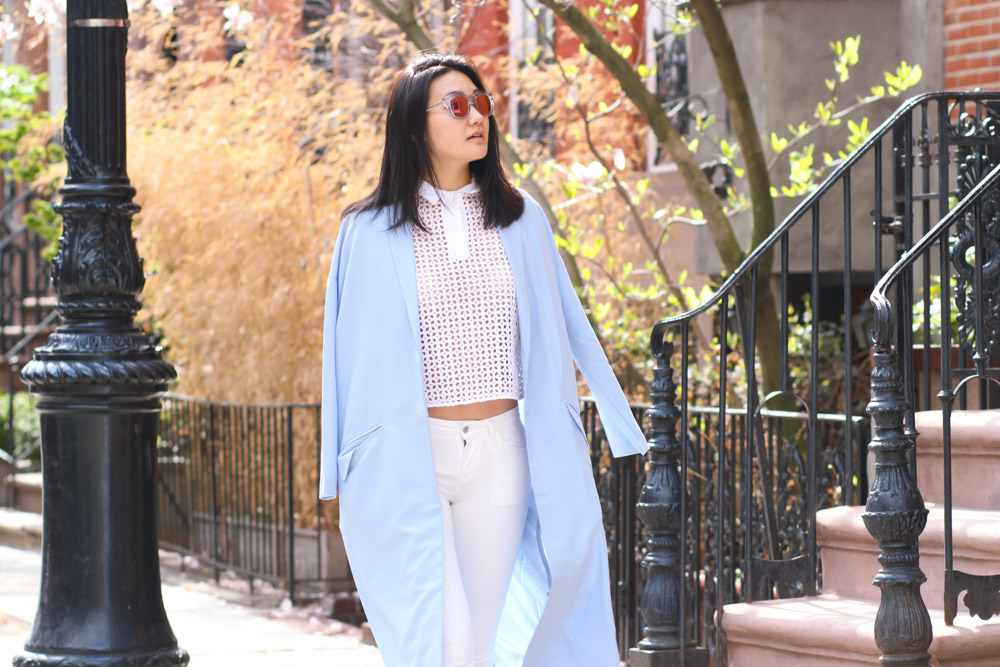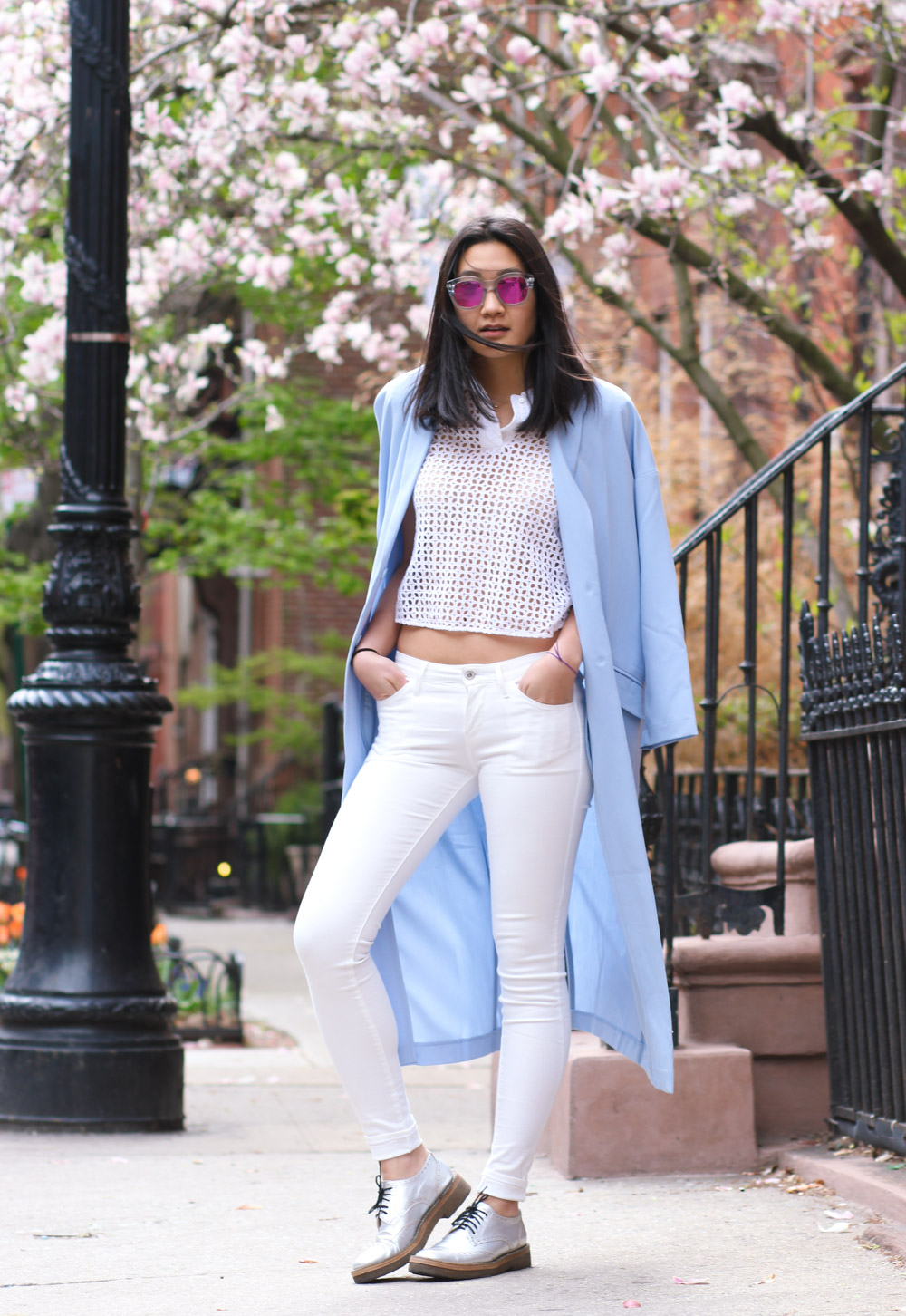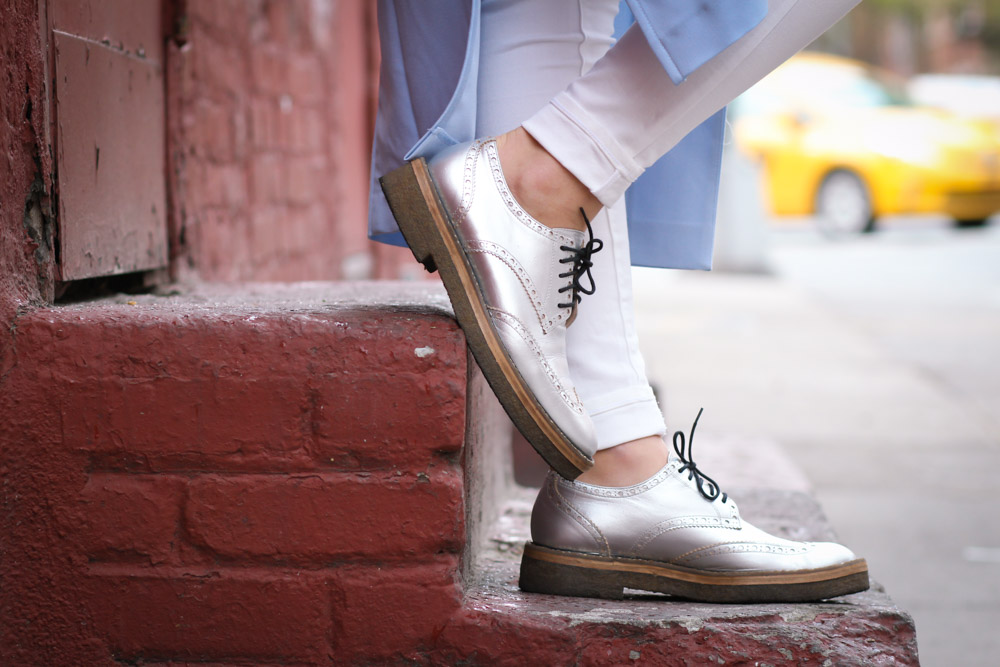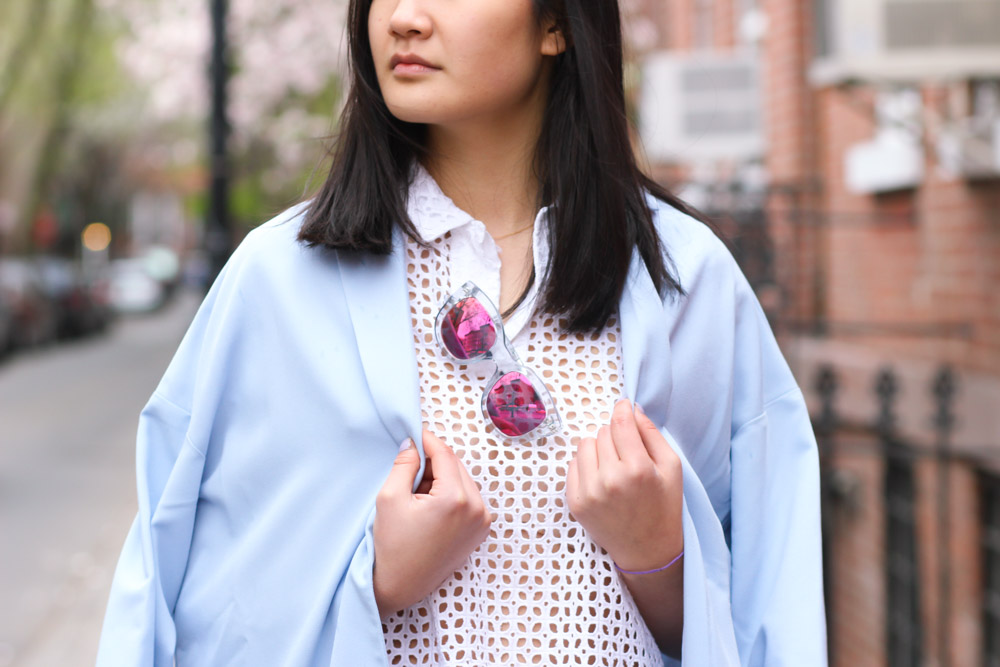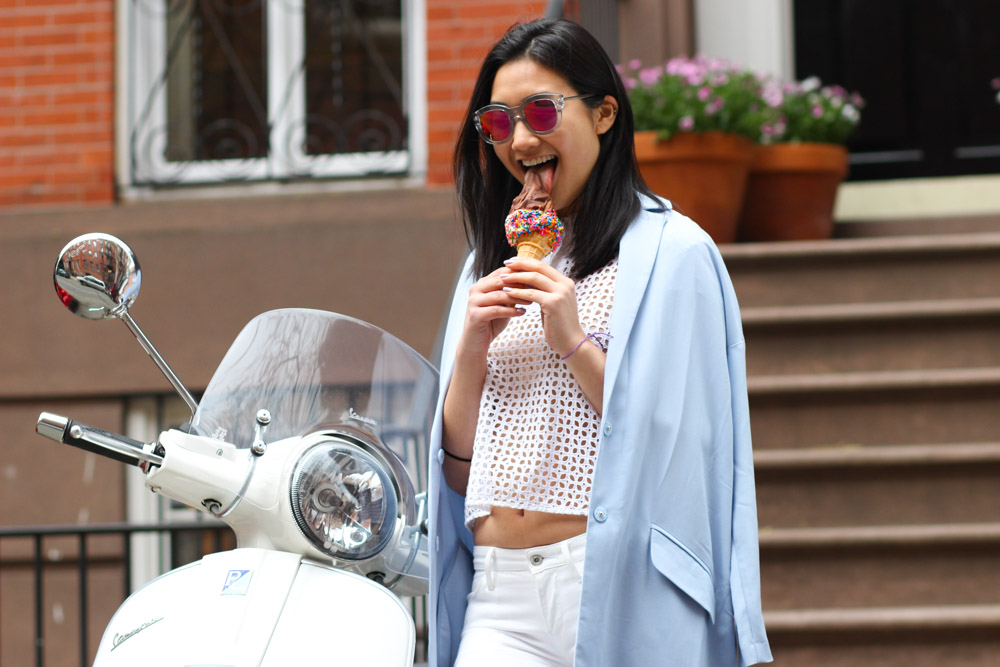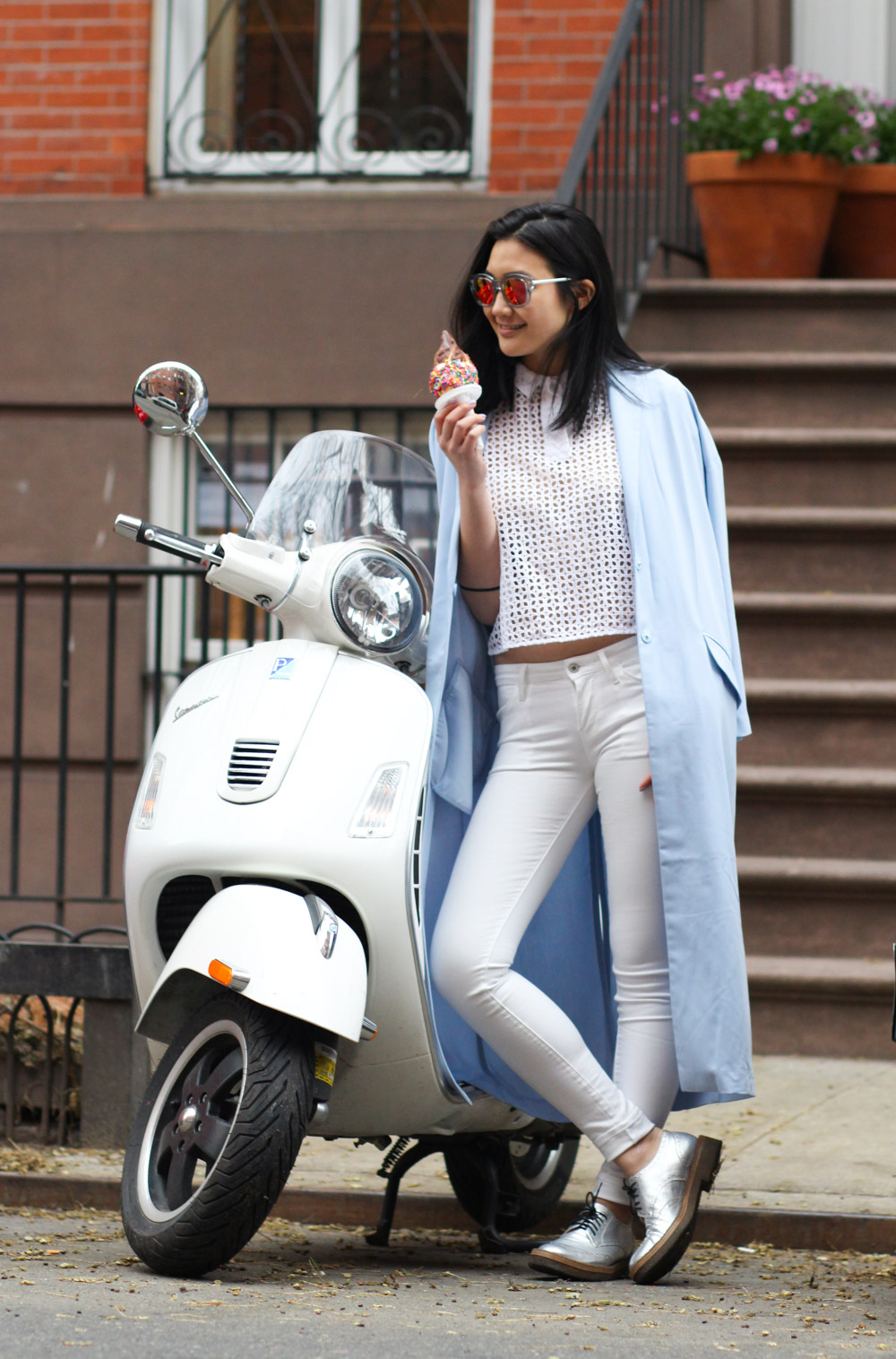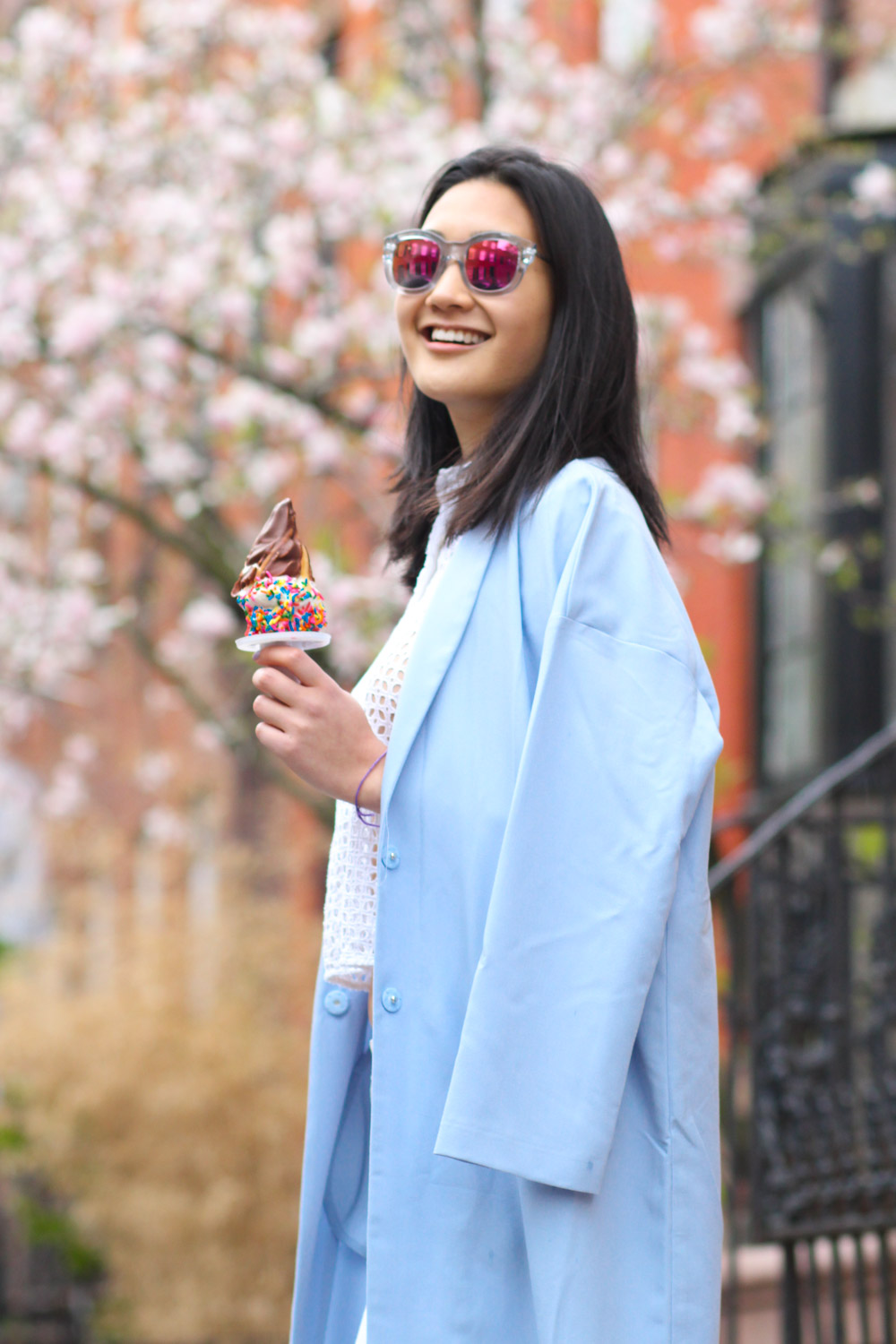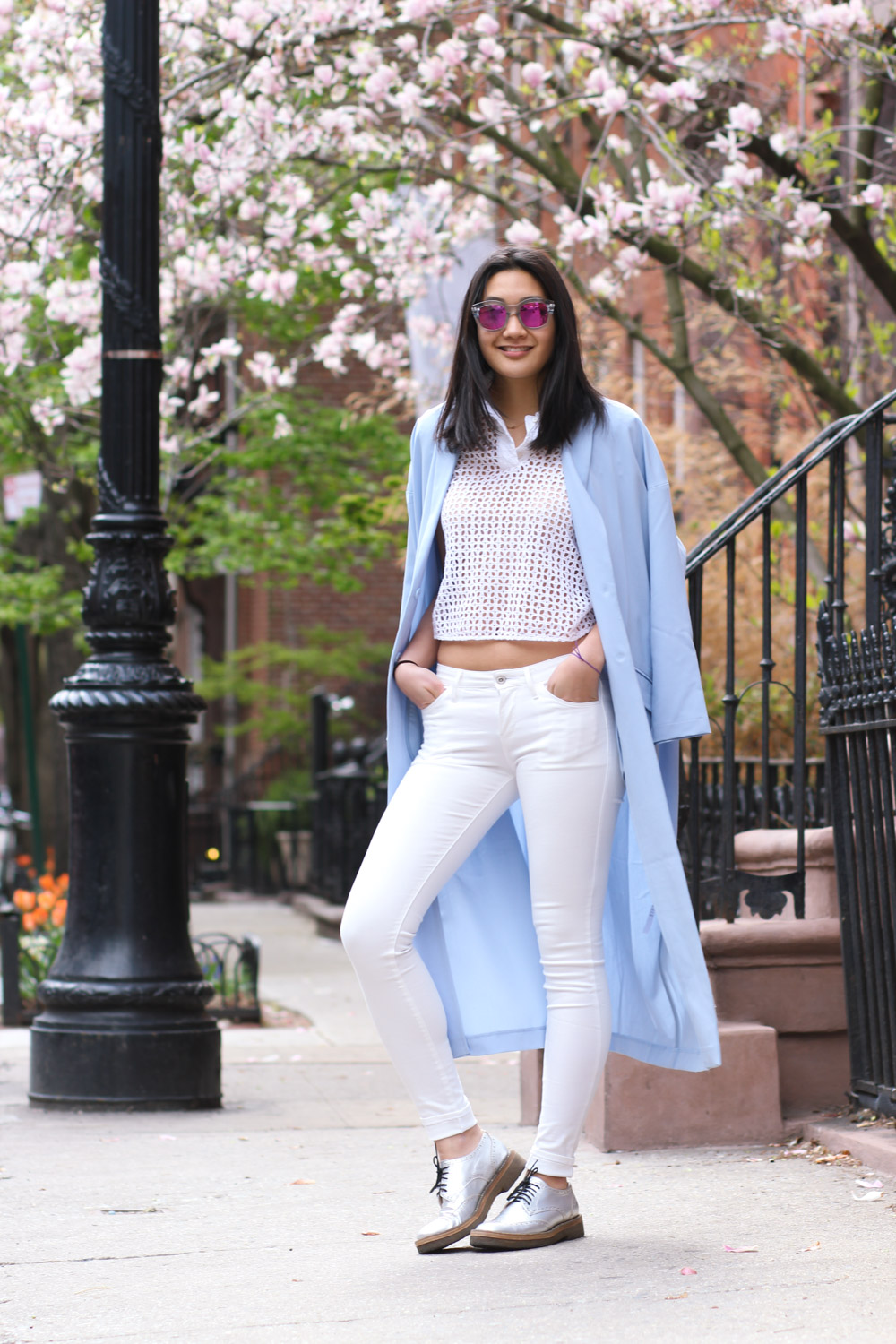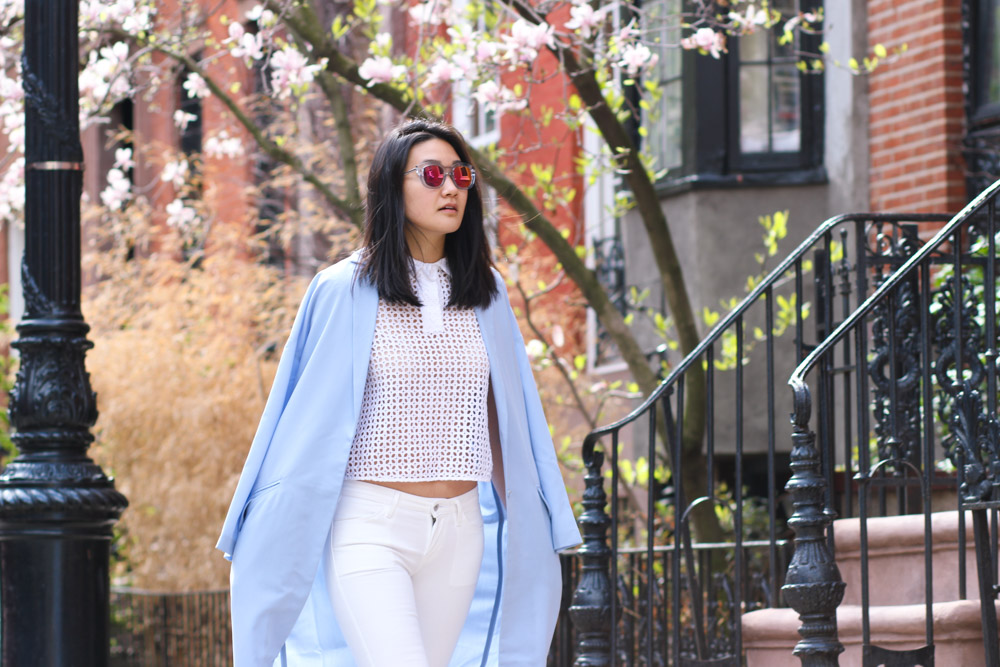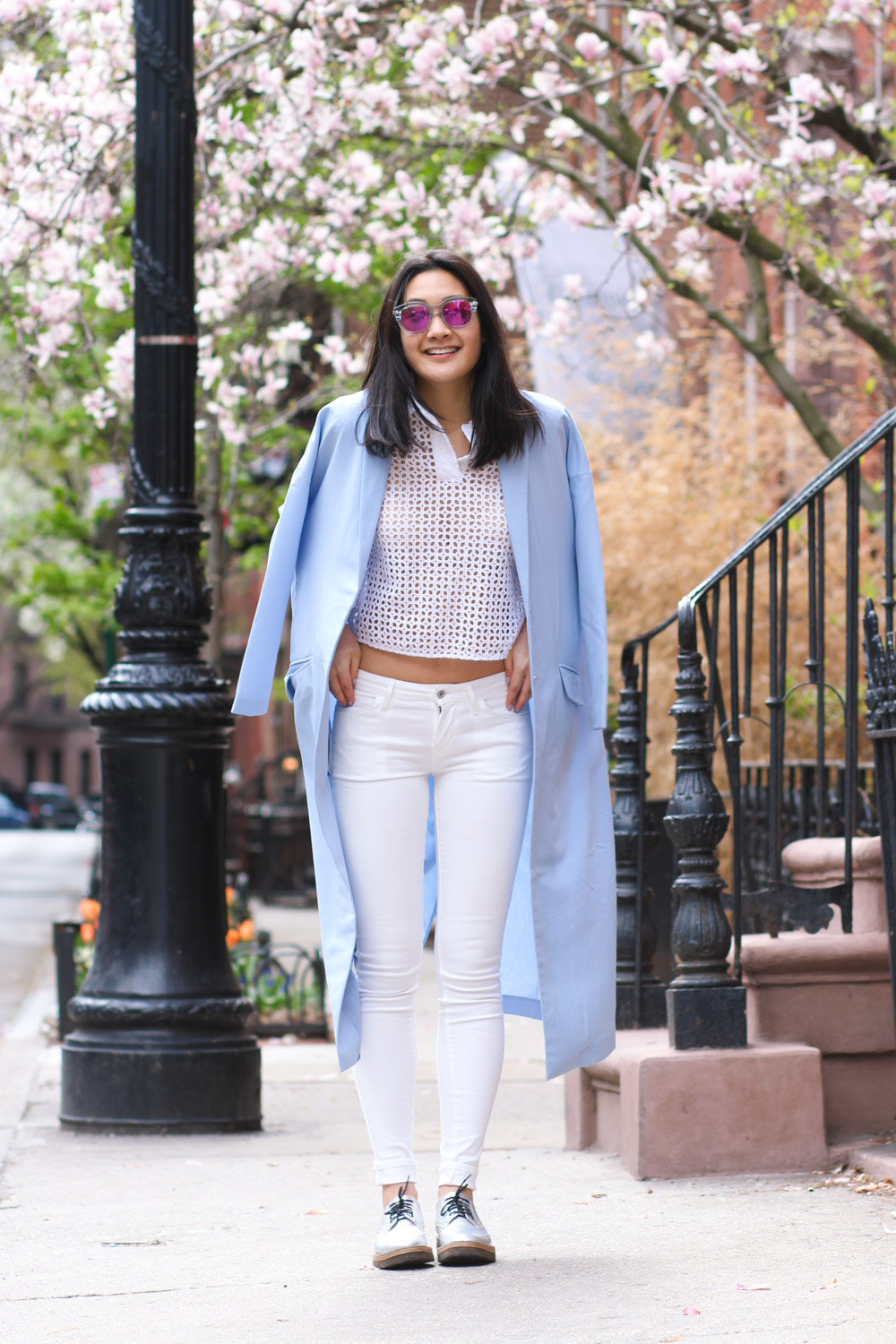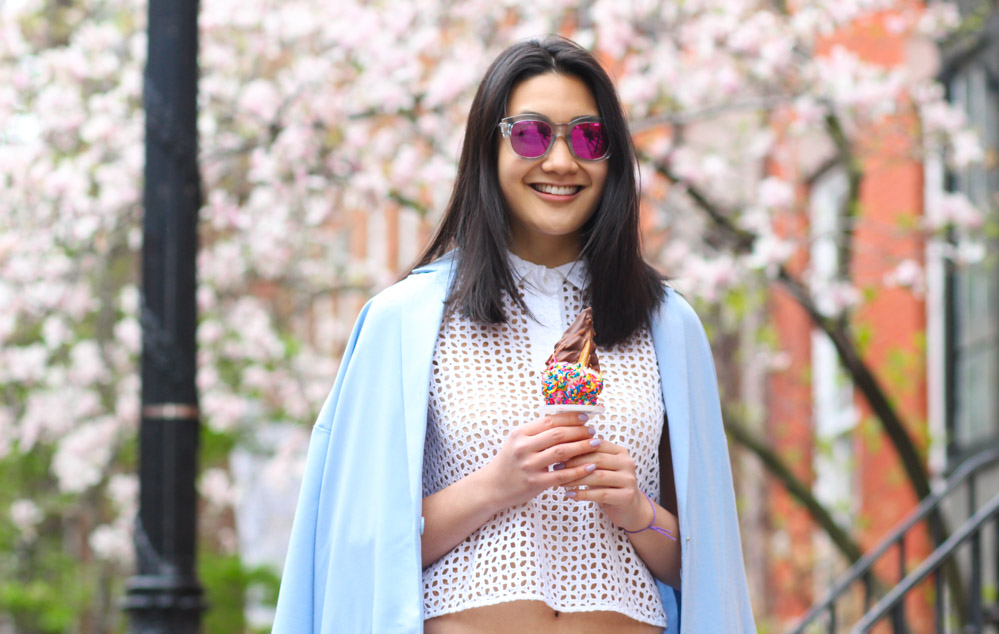 Meet the face behind City Foodie. With the help of her popular Instagram account of mouth watering #eeeeeats, Laura has established herself as the girl-in-the know when it comes to New York City dining. Laura moved from Seoul, Korea to NYC to study fashion, entrepreneurship, and business at NYU's Gallatin. Now this third culture kid is conquering the city one bite at a time, and snapping photos along the way.
Tell us about your background.  
I was born in Boston, but my family moved back to Korea when I was about 4 years old. I went to an international school in Seoul. I hold dual citizenship (Korean and American), but I really consider myself to be a third culture kid, like most of the kids I went to school with.
What's a third culture kid?
A third culture kid is someone who identifies with something other than both their passport nationality and the country that they reside in. Typically, they're people who move around a lot. Although I was born in America, I don't consider myself an "American" because I didn't grow up in the states. And although I was raised in Korea, I was surrounded by so much diversity in my school and I traveled a lot growing up.
I was able to immerse myself in so many cultures at such an early age. I was also raised by very global-minded parents; my mom's father was an ambassador of Korea so she grew up in Japan and Australia and my dad studied in Switzerland. I have my fair share of existential crises but I'm grounded by my family and my network of other TCKs.
What you brought to NYC?
I came to New York to study at NYU and I'm a sophomore in NYU's School of Individualized Study, Gallatin.
Since moving to NYC, what's the most interesting experience that you've had?
In the spring of last year I started a food Instagram account, called City Foodie, that I use to document everything I eat in the city. I created the instagram with no intention of making it a thing, but naturally it got a lot of followers. It's something that I do on the side and it allows me to meet new people, and exposes me to new places.
What type of restaurants do you feature?  
Everything! But I enjoy sharing places that are a bit off the radar or holes in the wall that serve really good food. There is so much more to New York City than what people already know and think serve "good food".
How did you come up with the idea of City Foodie?
At the time I started it, my personal instagram was filled with food photos and my friends would always comment that it was so boring. Especially my sister — she wanted me to show more personality on my Instagram so I launched a separate account just for my food photos.
Do you have any tips to gaining a following on social media?  
When I first started it, I would hashtag a lot. And I still do — that's like Instagram 101. I would also comment on the bigger food Instagrams so their followers can see my account. I also mass like other people's food photos.
Lets talk food since you're an expert. Describe your ideal NYC food day.
I would start my day off at my favorite coffee shop, La Colombe. I always get an Iced Americano. It's a four shot drink and I drink it straight up, no milk. No sugar. People think I'm crazy but I love my coffee like that. Then I would get breakfast at Blue Stone Lane in the West Village. It's a cute Australian cafe with really good, healthy food. My mom grew up in Australia so as a kid, our family would vacation there a lot. I recommend their hot coconut quinoa porridge, which is cooked in a blueberry compote.
For lunch, I like something quite substantial, but still filling. I love Cocoron for their Japanese soba noodles. I have traveled to Japan a lot and think the noodles are on par with what you would get in Tokyo. The people are so friendly, too. (It's cash only… but hey, all the good places are, right?)
For dinner, if I'm feeling indulgent, I'll go to Il Mulino for their truffle gnocchi. For drinks with friends,  it really depends on what we're in the mood for and what kind of crowd I'm with. But I really like the Stanton Social in the Lower East Side or if I'm feeling sceney — haha — Le Bain in the Meatpacking District is a lot of fun.
What's one thing visitors can't leave NYC without trying?
Chinatown in Flushing, Queens! The food scene there is incredible and so authentic. You have to go to Golden Shopping Mall, which is a gritty underground shopping mall with a delicious food court. It's a really tight space and quite difficult to differentiate each stand from each other. I recommend Tianjin Homemade Dumplings for their egg and chive dumplings or Lam Zhou for their hand pulled noodles.
Your NYC classic? 
If you want to have really good classic New York pizza, go to Rubirosa. It's always crowded and difficult to get a table but whenever I go, I get their vodka pizza and I remember why it's always worth the wait.
What's your favotie Korean dish, and where does someone go in NYC to get a taste? 
I find that some of the best Korean restaurants are not in Korean town. I like Danji, which is in Hells Kitchen, it's kind of more upscale and it's tapas-style, which isn't normal but it allows you to taste more. You should order their Kimchi Platter, because they have several kinds that taste so good and authentic. I don't eat pork, but I hear their Pork Belly Sliders are really good. And of course, Bibimbap is always a classic favorite.
Where do you go for great Korean BBQ?  
It's hard to tell because it's so saturated in Korea Town and I don't eat Korean barbecue! But I always go to Miss Korea — my friends love it, especially at like 4 AM after a night of partying. I usully get their soup dishes like Kimchi Stew or the Fermented Bean Stew because I don't eat meat. For BBQ, order their Pork Belly or Beef Brisket.
As a third culture kid, any other cuisine favorites apart from Korean?
I looooove Indian food. After Korean, my next favorite is Indian. There is a big Indian community in Seoul so the Indian food there is really good. My favorite two restaurants in New York are the MasalaWala in the LES or Malai Marke in the East Village.
When it comes to taking pictures for Instagram what are your editing secrets?
I edit all my photos on VSCO Cam. Good lighting is everything. I hate posting stuff that is too dark or in dim lighting. Make sure the colors are really bright but not over saturated, because the food won't look appetizing at all. I never sharpen my photos either; food tends to look unnatural and kind of gross when over sharpened.
I also like close detail shots. You want it to look appetizing so you learn tricks along the way. Like if I post a photo of an egg, I make sure to poke it so the yolk is pouring out.
How do your friends react when you snap a photo before every meal out?
They used to get really annoyed and impatient with me but now that they see it being put to good use, they're used to it. They even help me out like posing with their fingers or helping me with lighting!
For more of Laura's story subscribe to First Generation Fashion
Coat: Asos (similar) | Shoes : Dries Van Noten (similar) | Glasses: Le Specs | Jeans: J Brand | Top: Zara (similar) | Food: Big Gay Ice Cream