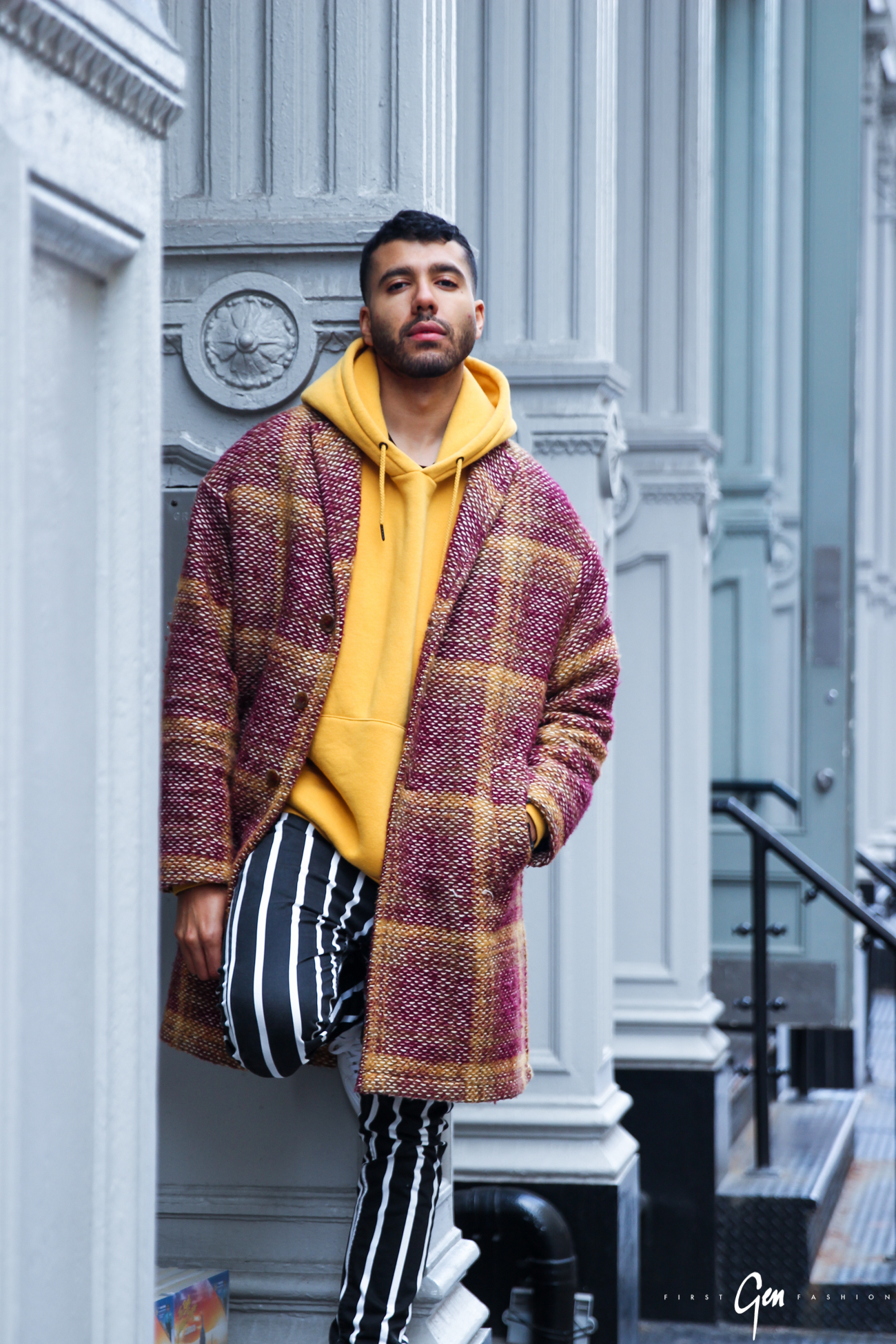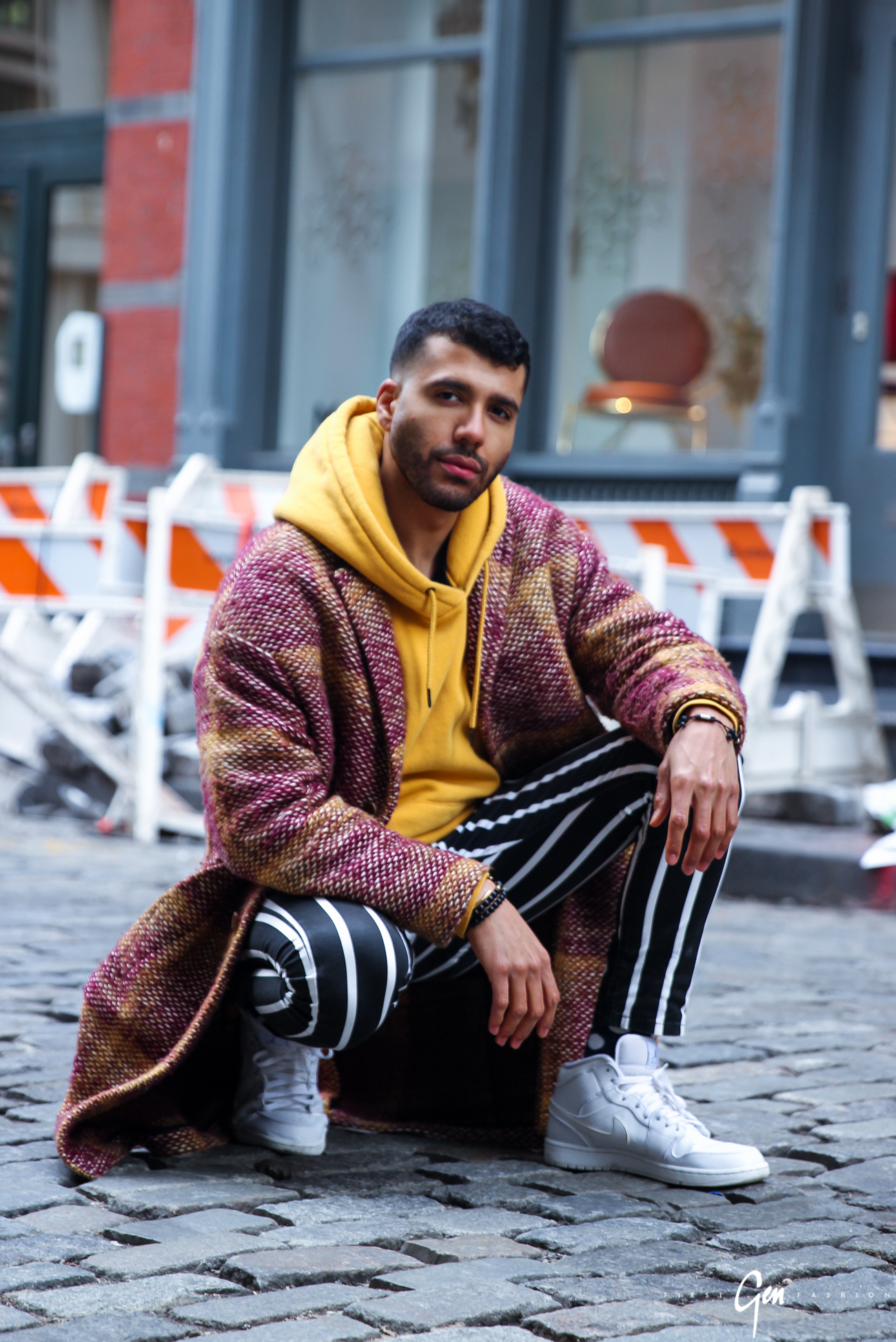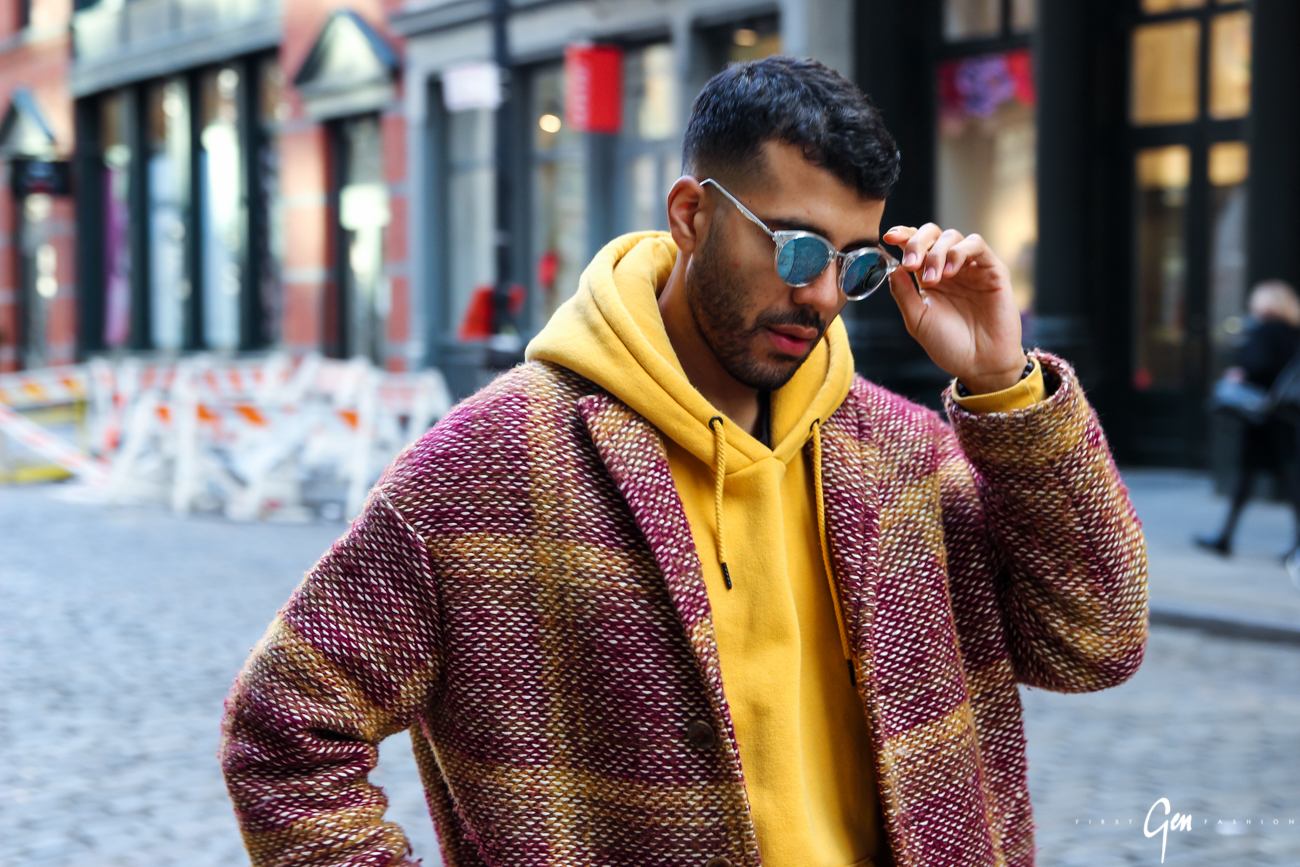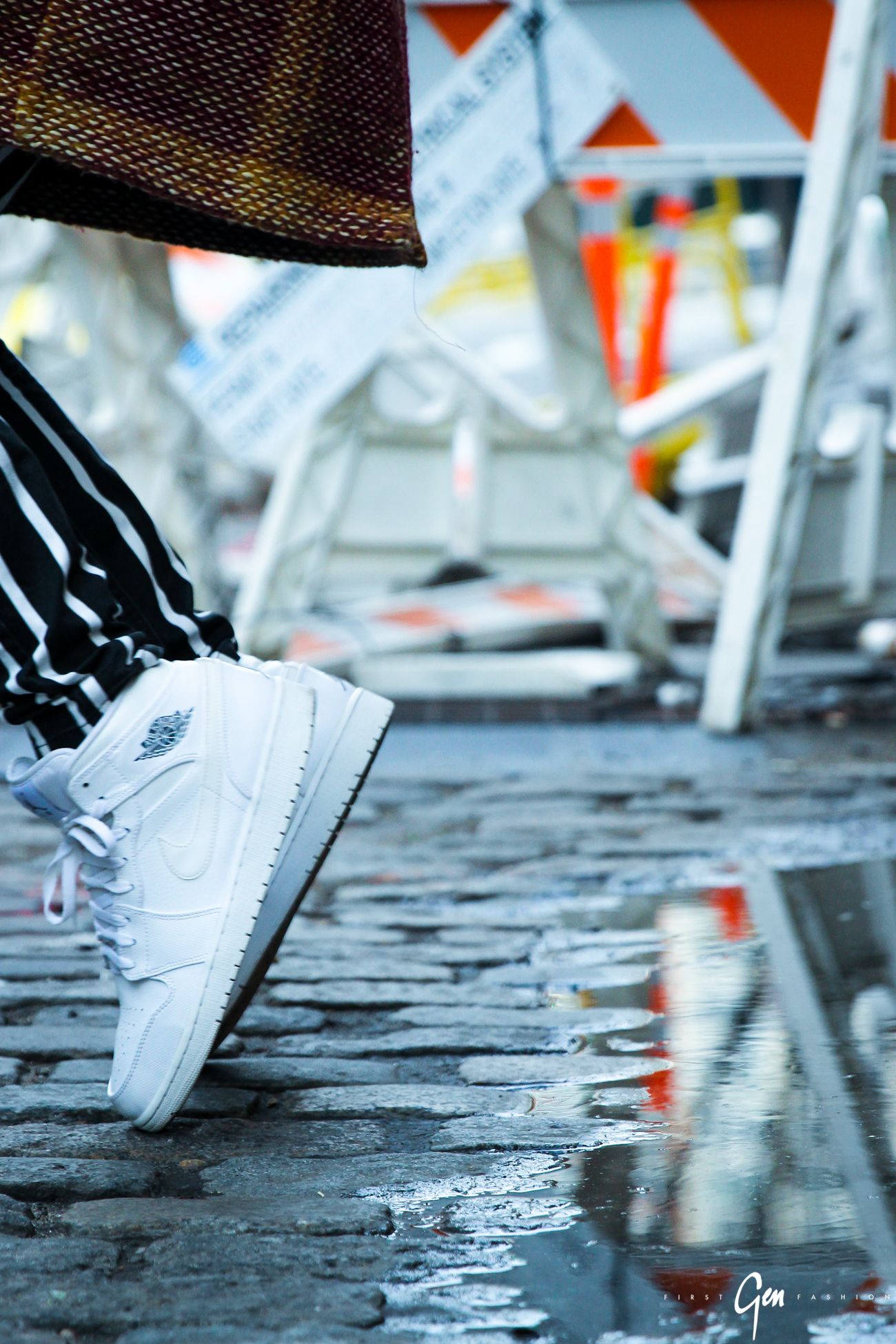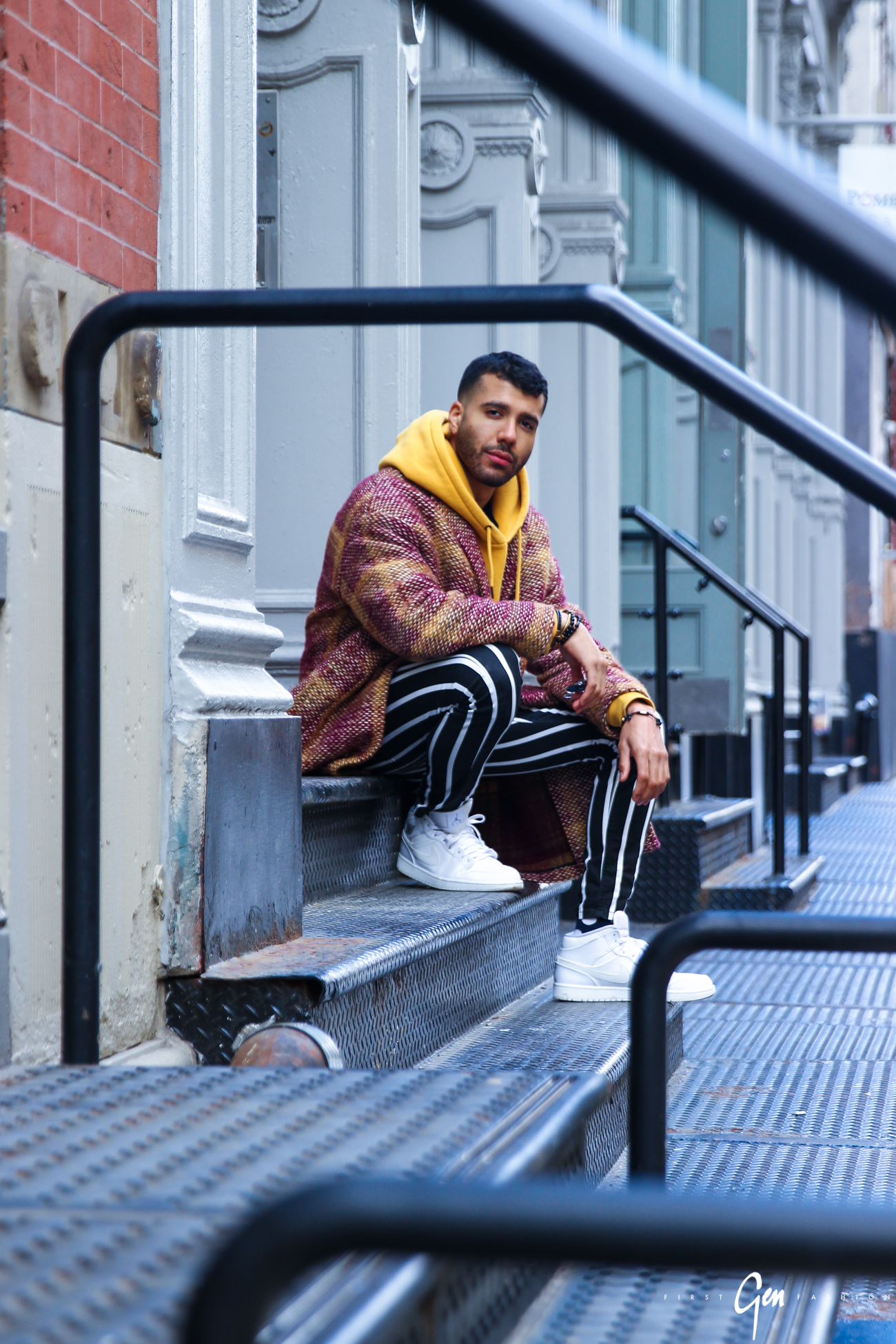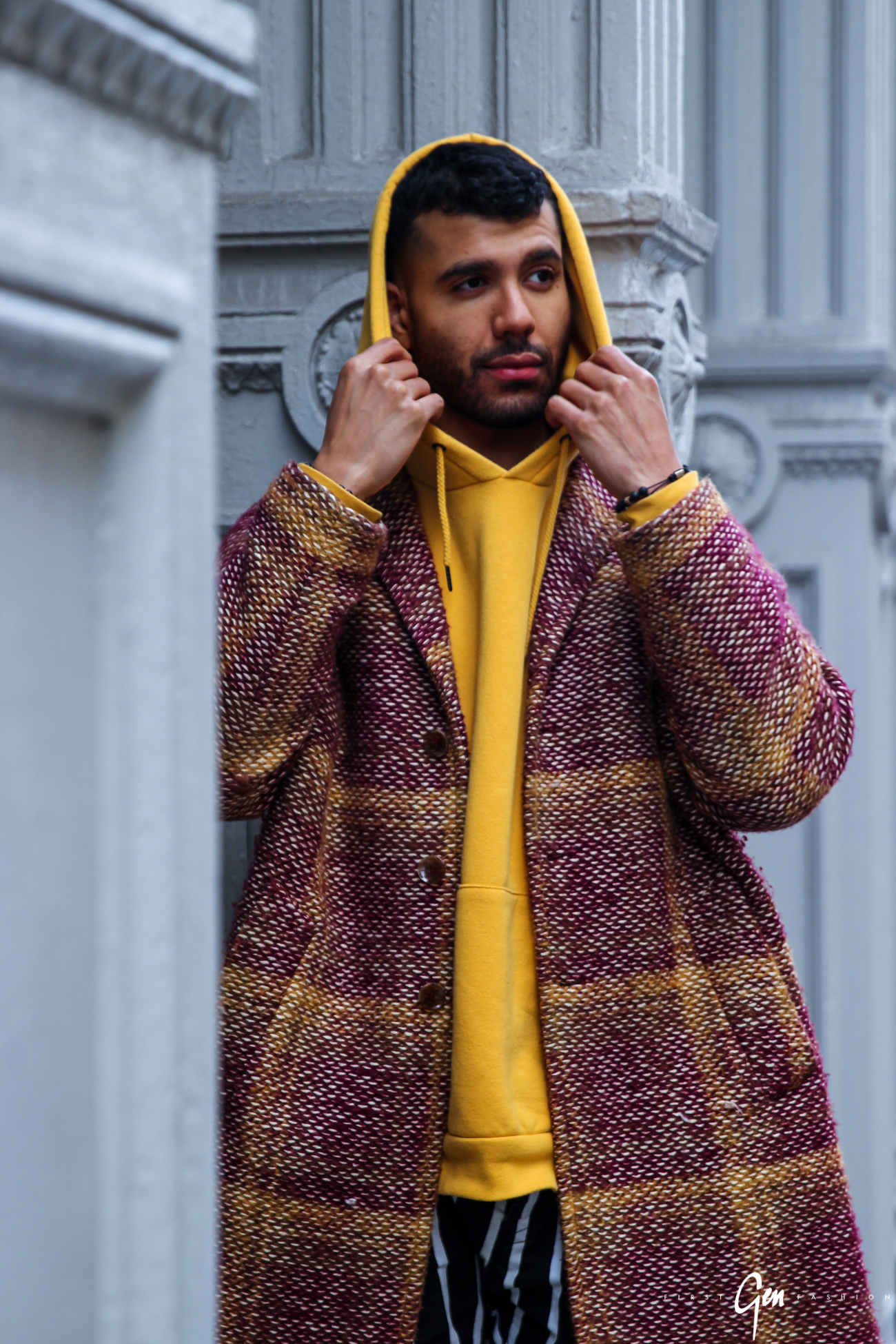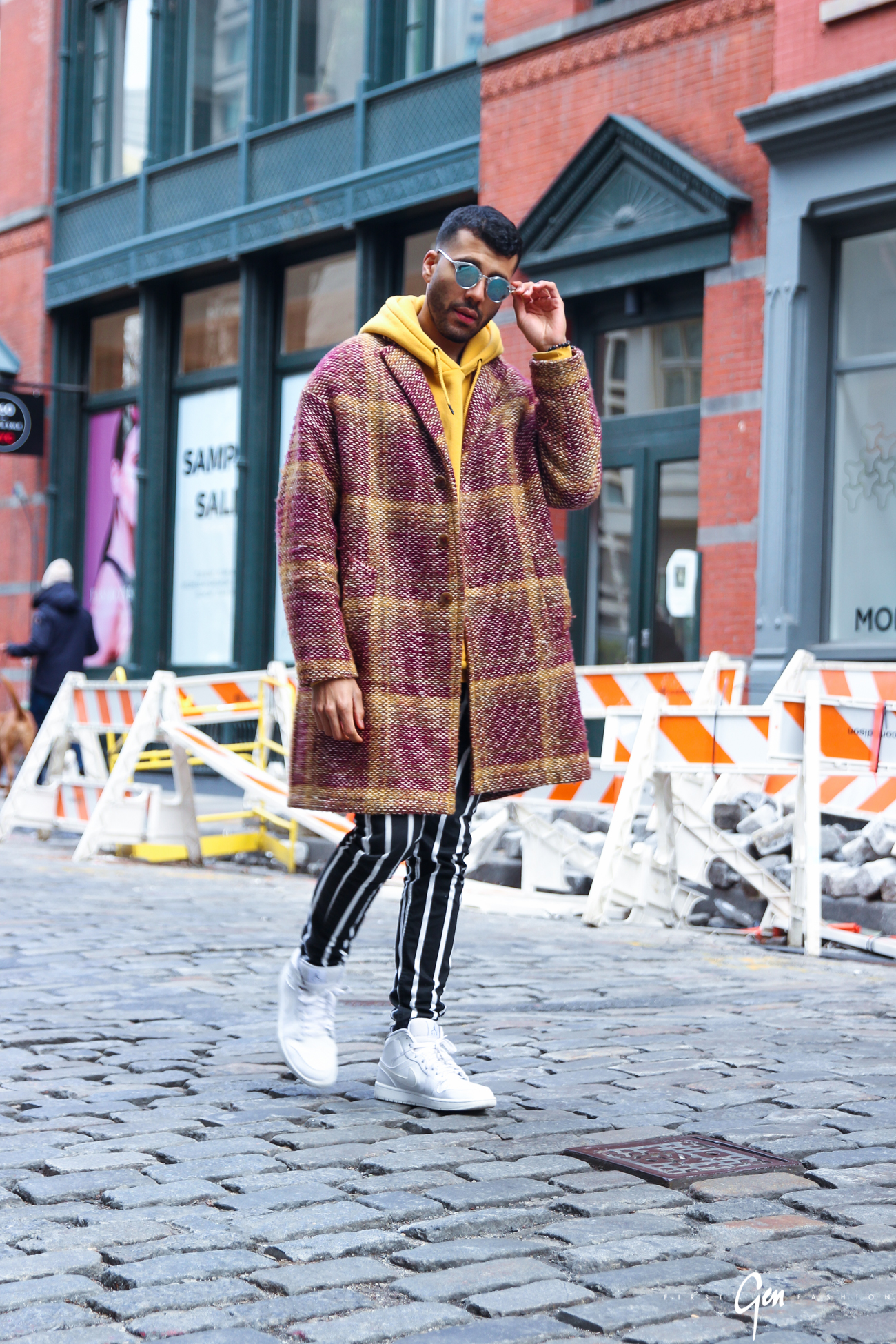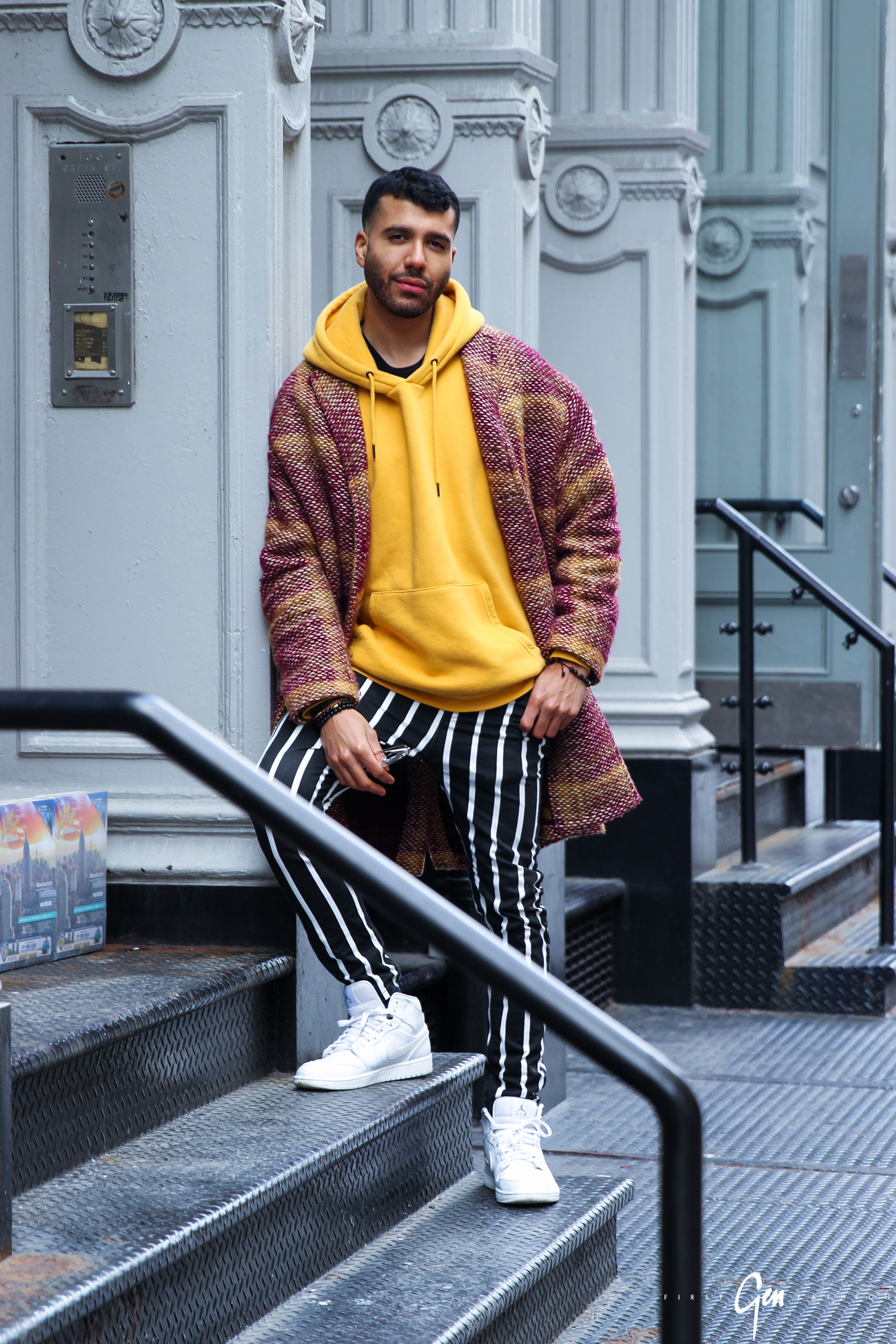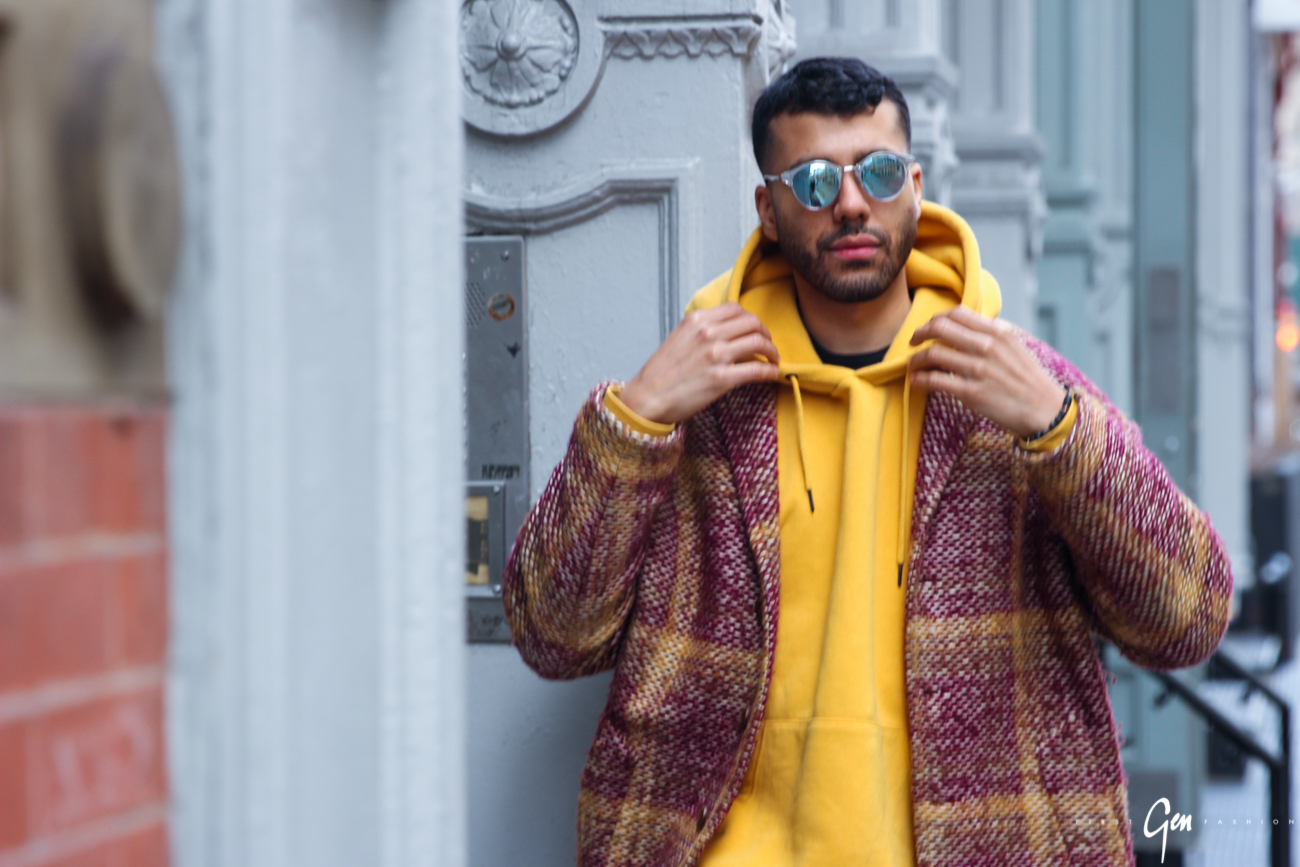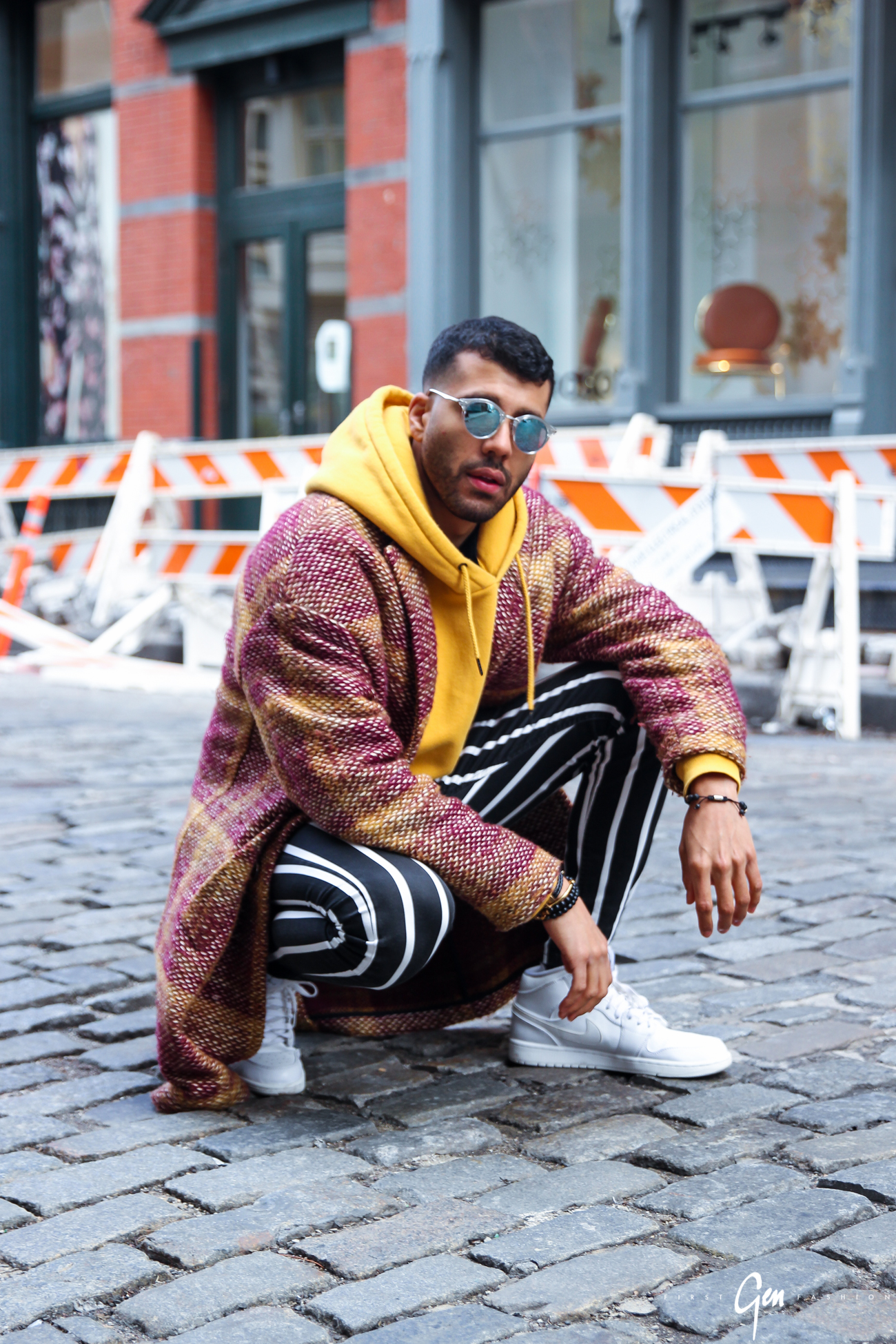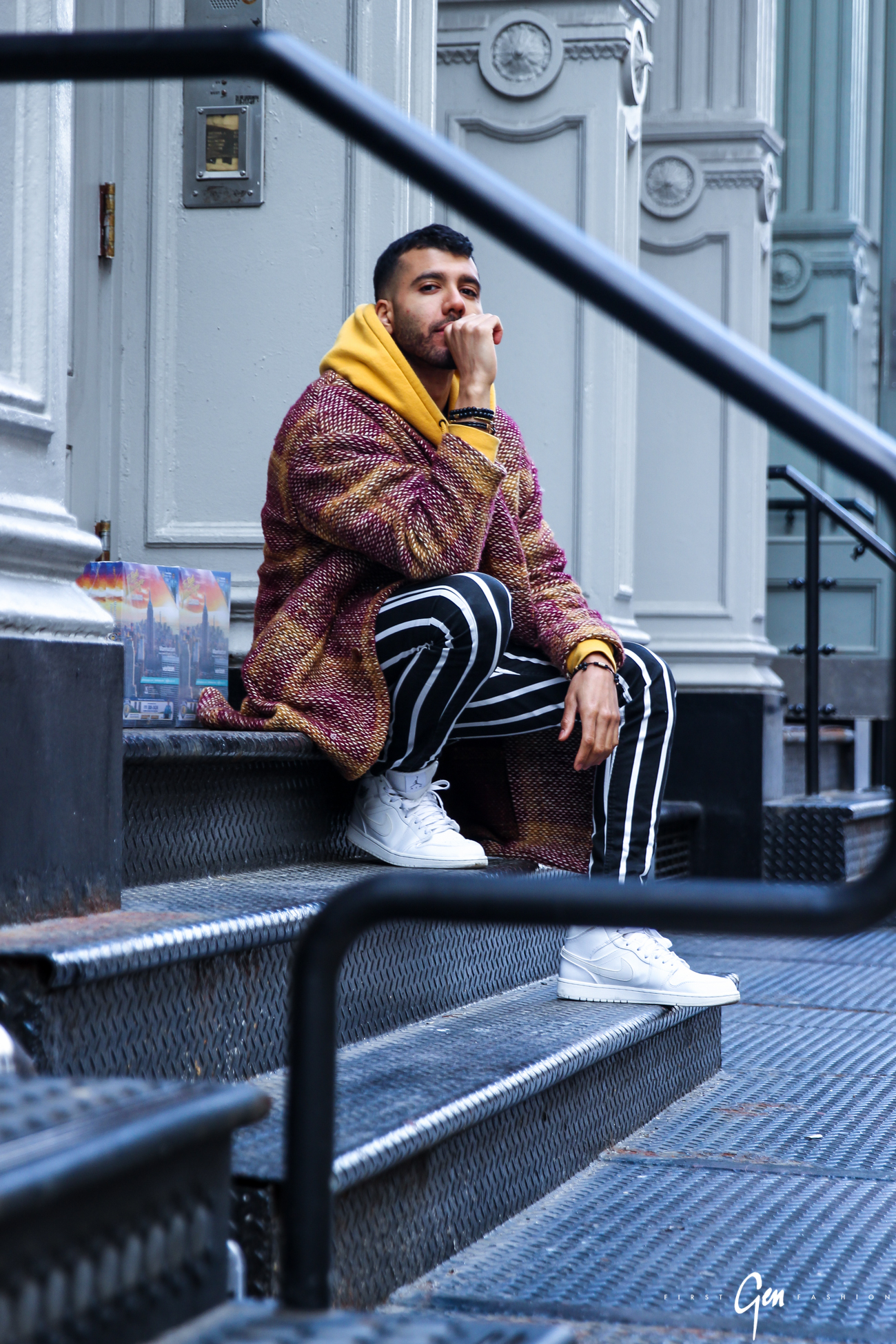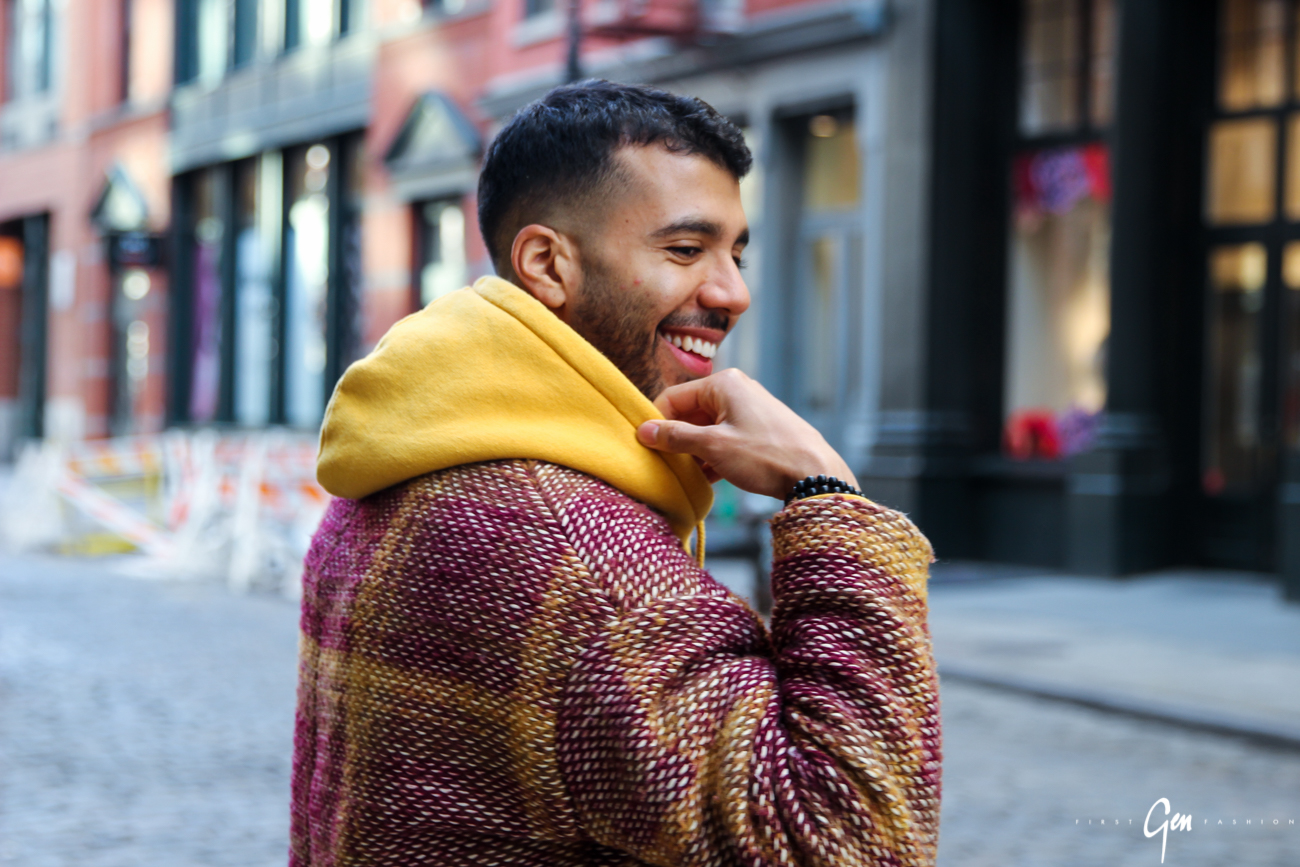 On and off the streets of New York City, Kevin Benejam is a gentleman that embodies the millennial Slash Generation. He is a Men's Fashion Stylist/ Social Medial Star/ Broadcast Host/ Creative Director and Lifestyle Influencer. As a first-gen Puerto Rican entrepreneur, Kevin can be seen tackling his bootstrapped and self-run business between fashion shoots and media events. Today he is one of New York City's most dapper tastemakers. We sat down with Kevin to discuss his urban upbringing and the evolution of his personal identity in regards to his multi-faceted career, race, and creative expression.
Tell us about your background.
I was born in the Bronx at Albert Einstein Hospital. My family is from Puerto Rico and I'm first gen.
Growing up in New York City, were you in raised in a large Puerto Rican community?
Yes, there was at that time in the Bronx. I grew up two blocks away from Jennifer Lopez and her mom was my kindergarten teacher.
I split my time between the Bronx and Westchester, NY. There was a Puerto Rican community in the Bronx, but in Westchester everyone was Italian or Irish. At one point, I started going to Eastchester Little league where I was the only colored person on the team, but I was used to that. 
What was it like growing up in New York City?
Growing up in the Bronx was was awesome. It gave me the best of both worlds. I didn't grow up in the best neighborhood so I learned a lot about street culture and street smarts. But I also learned book smarts.
Today you have a career in men's fashion. What are your thoughts on streetwear, and street culture in fashion?
The styles that everyone wears today look like what we were wearing in grammar school or in the 5th grade. That was the time when music by 50 Cent came out.
Yes! I remember growing up with artists like 50 Cent, Nelly, Aliyah, and Ashanti. In the early 2000's and late 90's they made it really cool to be black or hispanic. Artists like Jennifer Lopez for example. Those trends trickled down to fashion.
Yes, and Eminem.
Exactly. But then our generation went through a phase, especially in fashion, where we went very California, surfer and beach-y. Unfortunately those brands and ad campaigns didn't have any representation of colored people. There was this point in our childhood, in the early 2000's, that was very white washed.
Right, that's how I felt. I actually used to work at J. Crew, which is very much like that. At that time, I felt like I didn't really know what I wanted to do, or who I was. I just felt like I was a kid from the Bronx.
"I'm realizing that my ethnicity is what makes me different. I've been on a recent journey of embracing my history, my past, diving into that and owning it. Emphasizing it makes me who I am."
Was being hispanic a huge part of your identity and would you tell people when you would first meet them?
It used to be when I was younger. I would rep Puerto Rico hard. What I've learned is that my ethnicity is not going to like make or break who I am. But now I'm realizing that my ethnicity is what makes me different. I've been on a recent journey of embracing my history, my past, diving into that and owning it. Emphasizing it makes me who I am.
How did you get to that point of embracing your true identity?
There was a time that I was at J Crew, during college. I had a very preppy style. I was living in in Soho at the time and my girlfriend was four years older than me. She was a very corporate person and I felt like I wanted to be part of that. But then I realized that's not who I am and I started noticing how creative I was. Before that point, I thought that I wanted to be a finance dude. That was not who I am today.
So you came out of your shell and became a creative influencer?
I went through a stage where I felt that I needed everyone's approval to be successful or just to be happy. But I've learned from that and I'm in a different mindset today where I finally know that I don't need anyone's approval. I honestly don't care what anyone thinks of me or how they view me.
Tell us about your journey to get to that point of transformation.
Right after college I was I knew I wanted to do something creative. But I also wanted to do something that had to deal with people because I was a big people person. I love helping people. I always wanted to be around people and that's why I felt like being a real estate agent was the best thing to do, especially in New York City. I did that for three years and I did it well. I got a lot of good opportunities but I just realized that I wasn't fulfilling my potential just showing apartments. It wasn't what I was meant to do it.
At what point did you go from broker to men's fashion expert?
In the midst of being a real estate agent I was always dressed to a T. My clients would always ask me about what I was wearing. They would say, "hey Kevin, you know I'm going to this date, what should I wear?" or "can you come to my house and revamp my closet?" I started styling organically and making contacts just for fun and for free. I was loving it. So I began hitting up my friends who were actual stylists at the time and asked them, "how do I make money doing this?"
They taught me how to start doing it. I started styling more clients and got into the fashion industry and started going to events. That's where I began meeting bloggers and influencers. If you start taking pictures of your fashion because you look good every day, people will want to see what you're wearing. Little by little, I was like, wait I can actually take fashion seriously.
In today's socially-driven economy, our generation has been coined the "Slash Generation". It refers to titles such as Designer/Writer/Photographer/Influencer…ect, ect. How would you describe yourself?
I would call myself more of a Creative Director. Although I work as an influencer and that's what I'm doing today, I recently started a social media agency. Through helping people with fashion, I also started helping real estate agents with their social media. A lot of them have no idea how to use it.
Being first gen, Puerto Rican, and also a New Yorker, what did your family think of your decision to stray away from the cookie-cutter career route?
My parents are super supportive. They were just like "Kevin, we want to support your dreams."
What are your long-term goals?
Ever since I was in high school, I really wanted my own talk show like Ryan Seacrest and Oprah. In real estate, I would always ask CEOs how they got to where they were. So I came up with a concept for a show that is fashion-based and launched it on YouTube. I interview stylish entrepreneurs about men's fashion. All of the topics are about trends today, and you get a look into the depth behind their lives and careers. The show is called "On Trend". We also talk about strategies like marketing to build a business. It's a source of inspiration because you can take home the ideas and build on them as well.
What entrepreneurs do you interview?
My first guest was Gerard Adams, which is crazy. At age 24 he was a multi-millionaire. Then he lost it all in 2008 and rebuilt his fortune by starting Elite Daily and exiting at $50 million.
Let's talk New York City. Living in New York since birth, what changes have you experienced in the city culture and fashion?
I think New York is becoming more diverse. It's always been diverse but now it has become even more diverse in pop culture, especially with hip hop. A lot more people right now think it's ok to listen to hip hop. When I was a kid, all of my teachers would say rap was garbage. It was affiliated with gang culture and explicit language. That has completely changed.
What do you think contributed to this shift in perspective towards hip hop?
There's a shift in how people do business. Artists have started to do business online and they're making their own music. The labels don't have a grasp on who releases what anymore.
People have the power. Whatever's the most popular wins. You cannot deny it.
This is also true for Latin music, correct?
Right now we're going through a revolution with hip hop and Latino music. Latin Music has always been popular, but now it has become more relevant in our culture.
Like that Justin Bieber song Despacito.
Yes, and other artists like J Balvin, Yandel, and Daddy Yankee. Marc Anthony and JLo are the best. All of these artists are becoming mainstream.
I have always loved latin music and dancing. I love latin dancing. Where would you recommend to find a great latin dance party in New York City?
Like salsa? There's one place I like downtown called Gonzalez y Gonzalez
Living in New York, do you think that the city influences your choice to be an entrepreneur.
Yes, because there's so much available to you at your fingertips. If I grew up in Oklahoma, I'd have no idea what I'd be doing. I'm in New York City. I can introduce myself to anyone on the street, and who knows who they could be. That has happened to me before! I have met people who have complimented my coat and from there, we've built a relationship. Those people have become clients or good friends. There's just so much opportunity here.
How has your first-gen heritage, Puerto Rican background, or immigrant family history influenced your willingness to take risks? Does that allow you to detach yourself from traditional corporate paths and the career "status quo".
Since I was 6 years old, I was a huge baseball fan. I learned, at a young age, the value of sports memorabilia. I saw people buy it and then the value would go after just five years. I got into baseball not just because I love baseball and the Yankees, but because I started buying memorabilia. I knew I could sell it for a lot of money later on. In the sixth grade I also started copying music onto CD's and would sell it back to my classmates for a profit.
Growing up you were a hustler?
Basically I would meet my friends after school to sell them CD's. I remember the CD's too, like Fabulous was really popular. And Pink. It has to do with how I grew up and how I was raised. That's the type of lifestyle I wanted. I don't think I can ever do 9 to 5, it's never been what I wanted to do.
Today, I take photos for content and building businesses. I do that that for work, not for everyone to see me. I always want to live out my true potential. I think about what I can do and what's my calling. I'm always thinking about how I can be best version of myself, today.
"Have your own North Star. Go after what you want and your vision."
 You've began a career in the unchartered waters of the influencer business which has no Rule Book to follow. What's the most surprising thing about starting an internet/social media business?
There are surprisingly a lot of shallow people in it. A lot of bloggers or "internet personalities" have no personality.
You would think that someone has a big following because of their personality online. But that's not always the case. Let's say if someone didn't have the audience, then that's fine. Not everyone needs to have a big personality.
The personality that you see online is not always what you get in real life?
Once you're in the world, you get to know people and who they truly are.
Do you think it's easier to work as an internet entrepreneur and influencer or working at a traditional job in a corporation?
I think everything can be hard, and you to choose your version of challenges. For me, going 9 to 5 was hard because I hated it. Building businesses is a challenge but if you love doing it, that's ok. Obviously there's going to be some minor things you hate doing, right? Overall, for my long term goal, this is in my direction.
Where do you see yourself in five years?
I'm launching a product. But my overall goal is to continue with video and working on my own show.
What's one tip that you would give to someone starting out, that hopes to build a career like yours?
Have your own North Star. Go after what you want and your vision.
For more of Kevin's story subscribe to First Gen Fashion
SHOP THE LOOK //