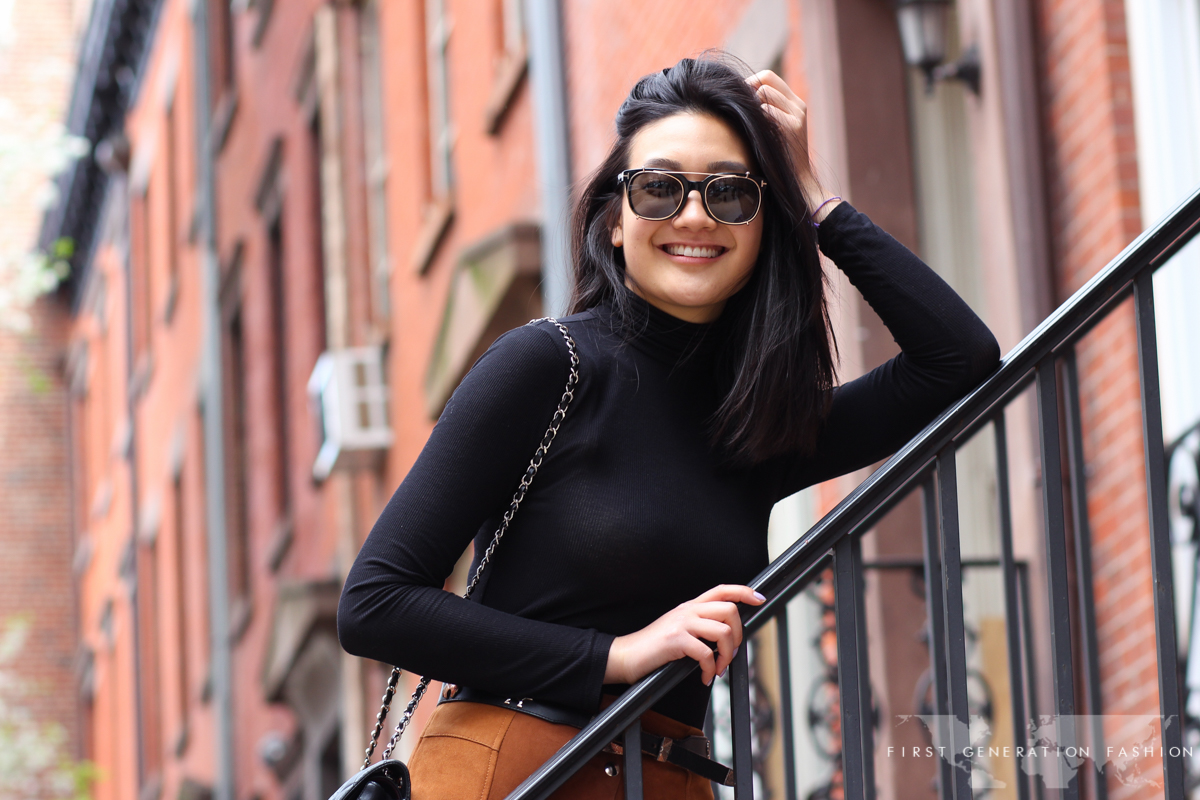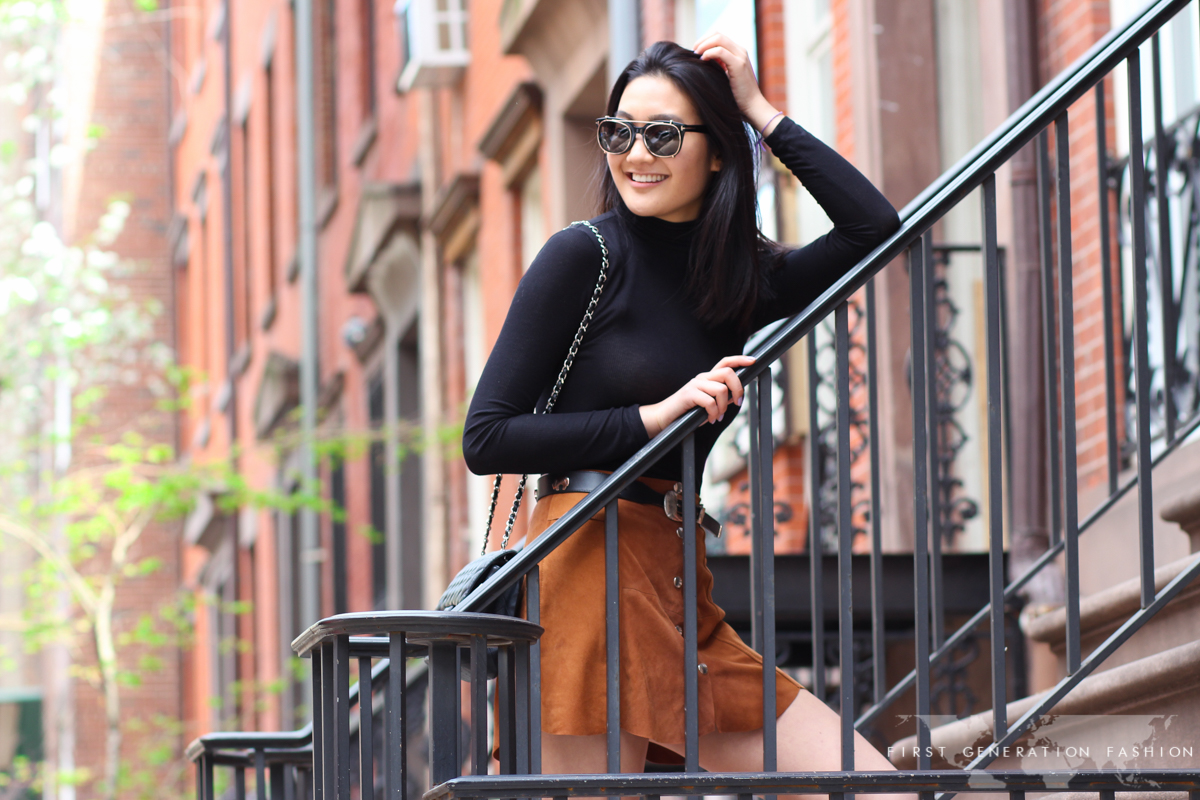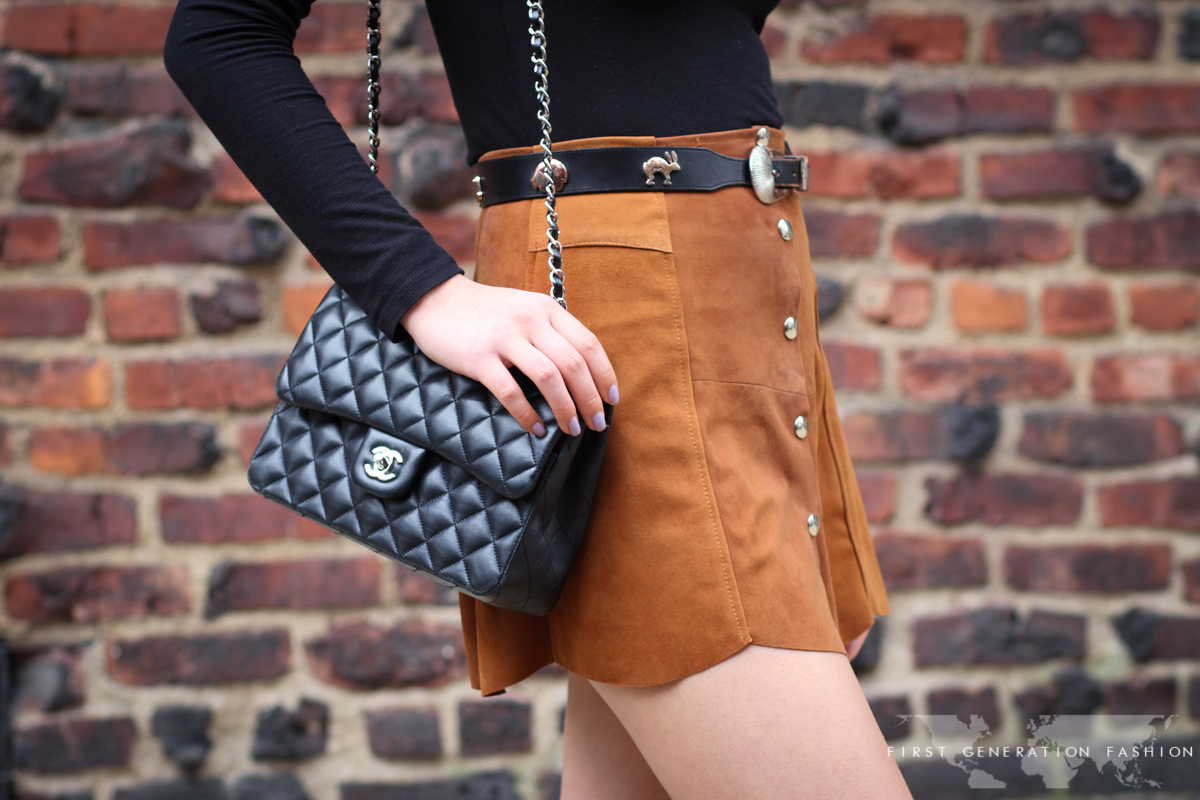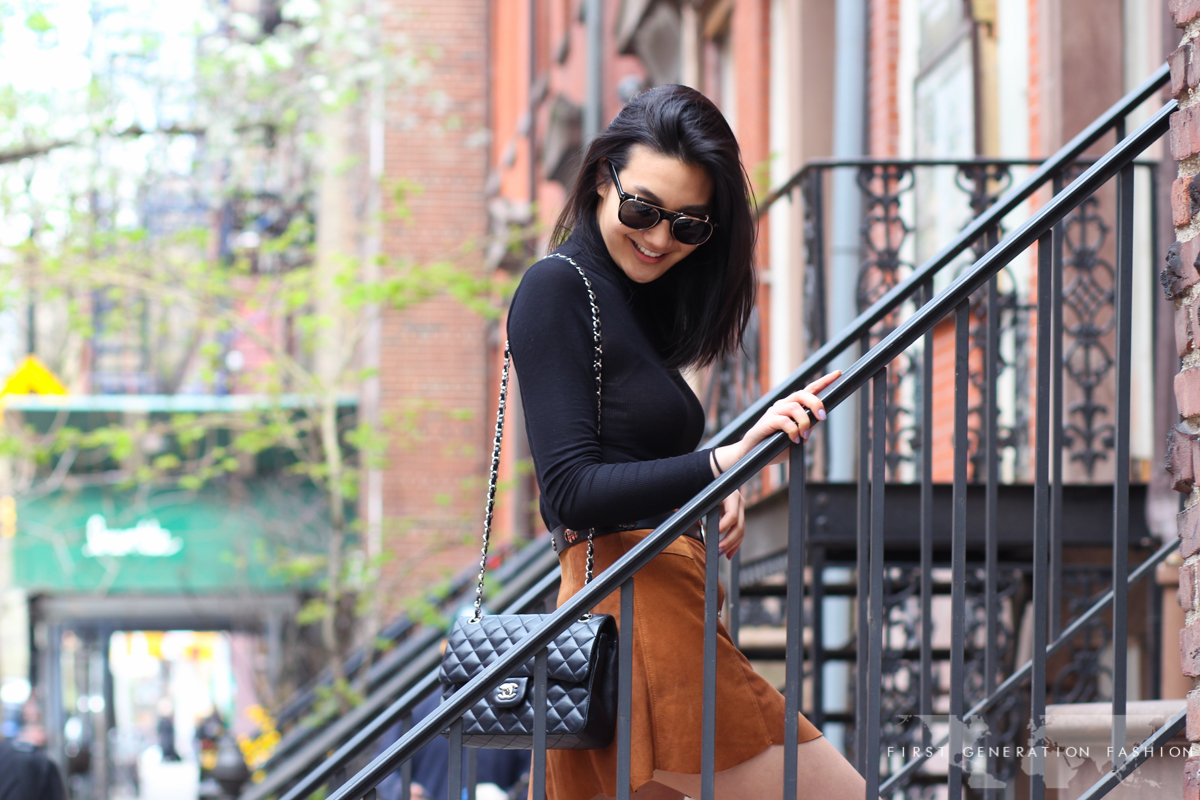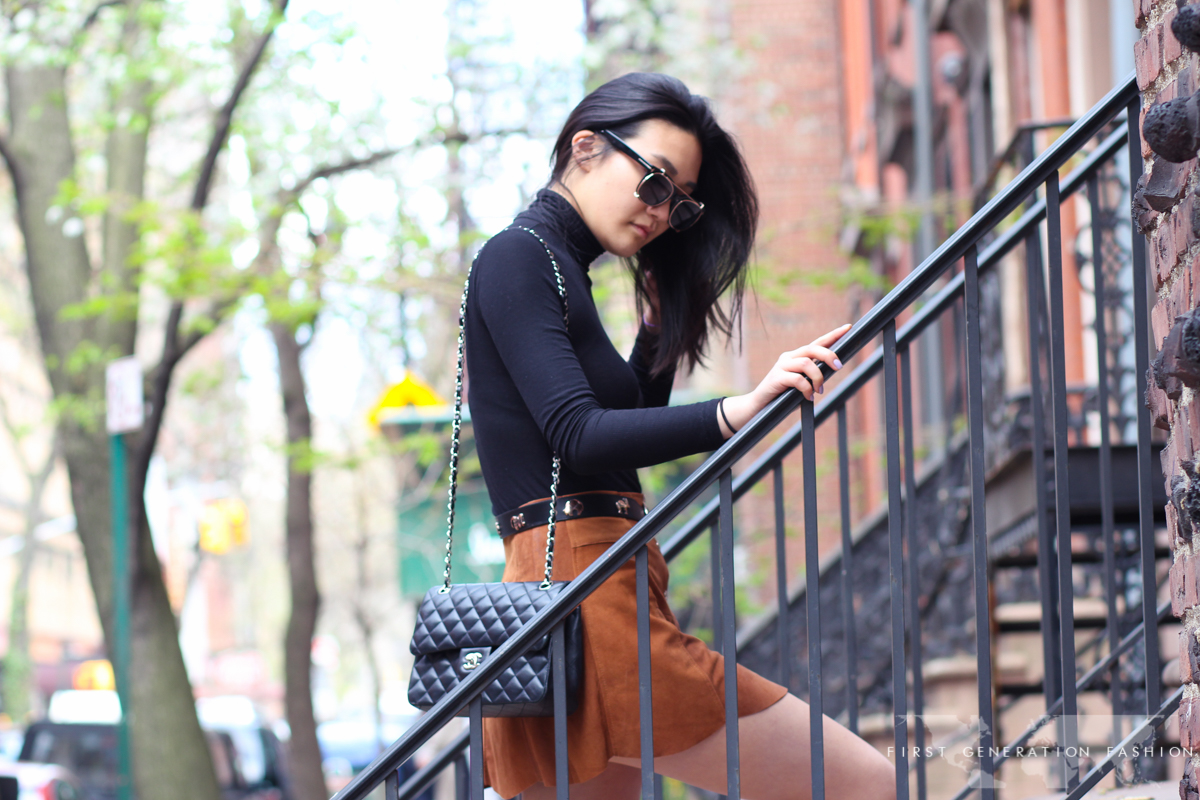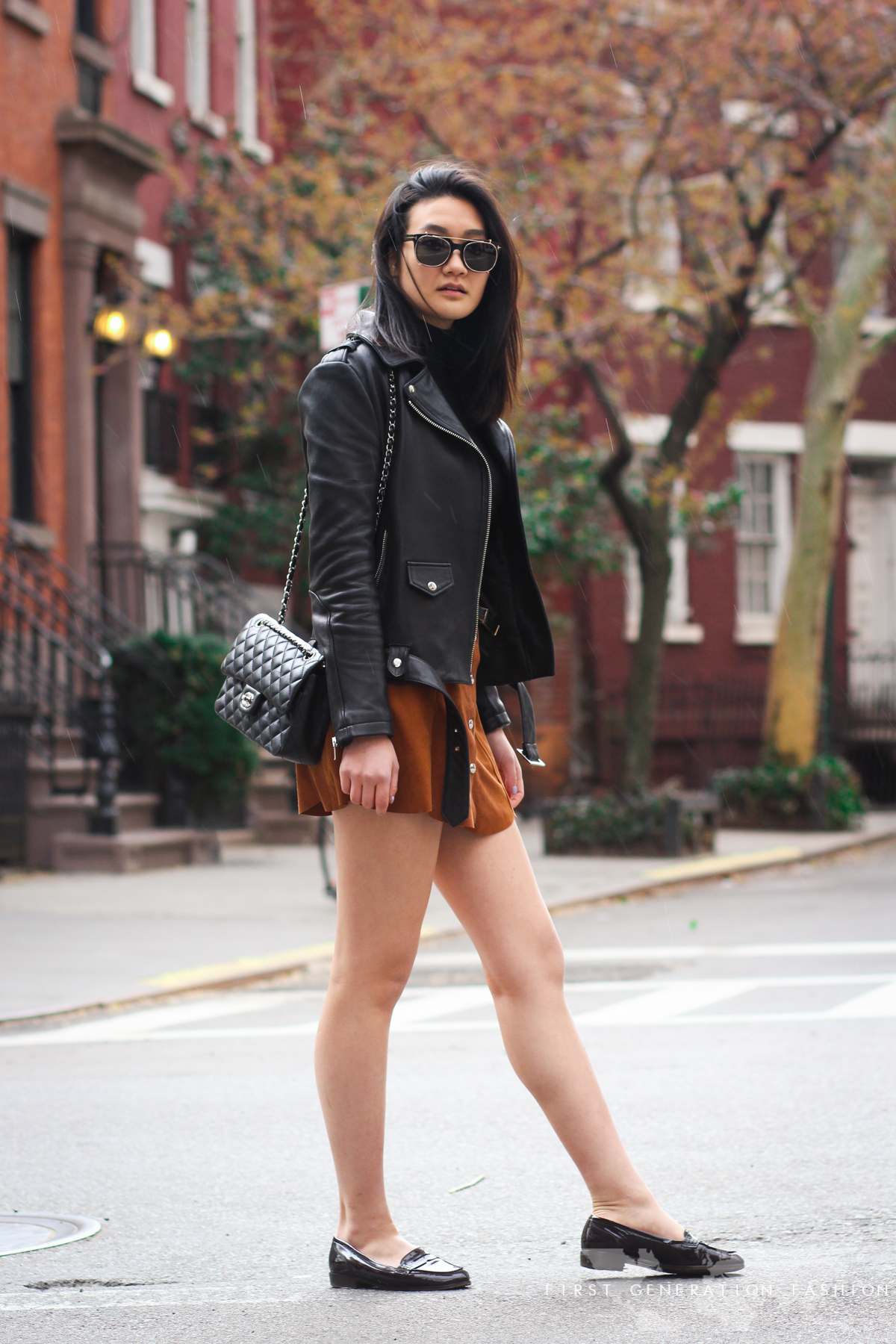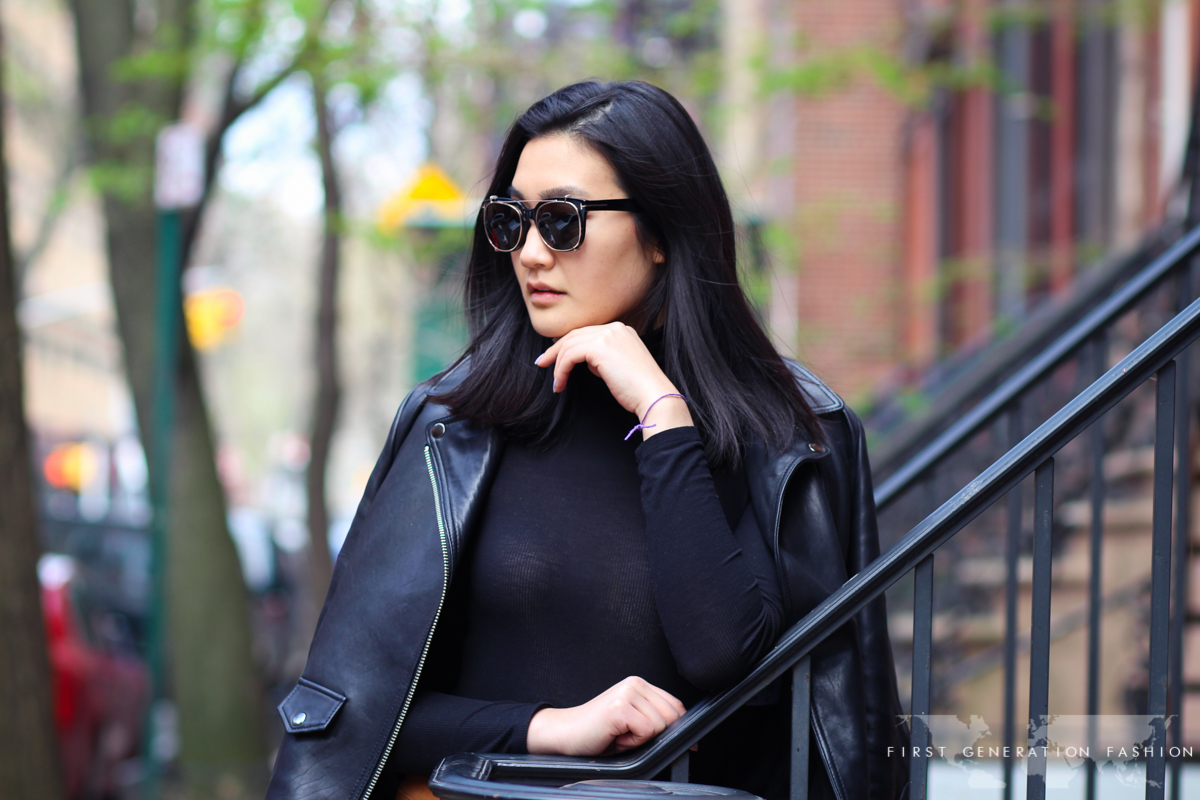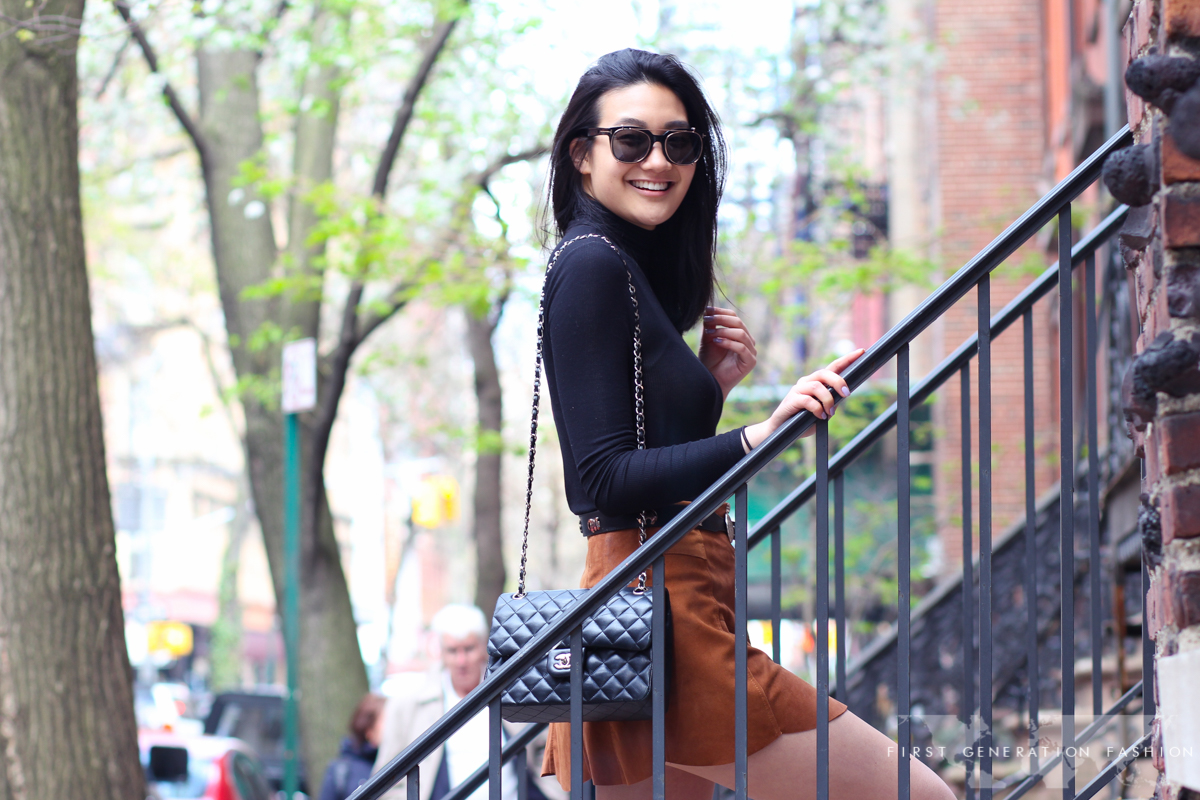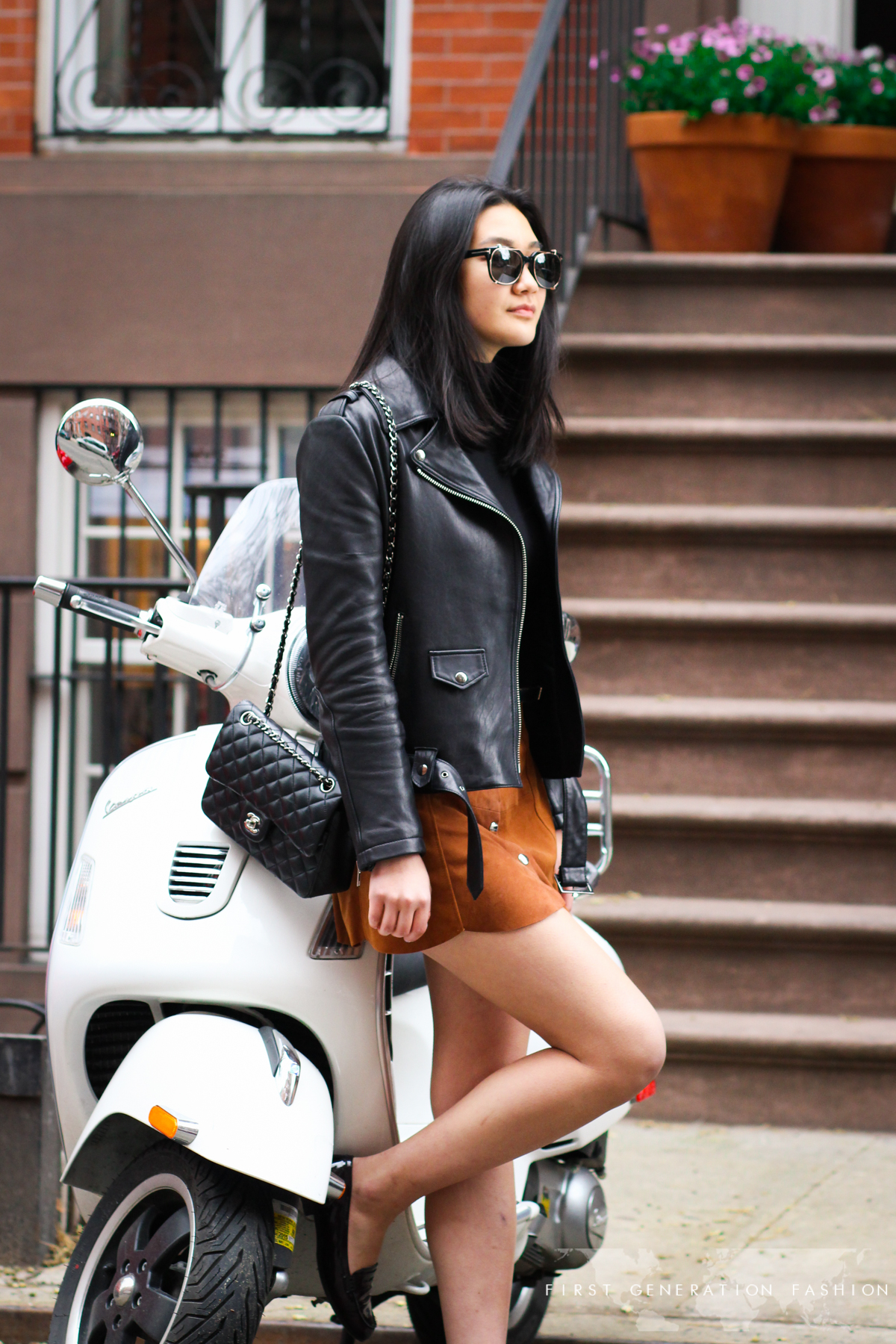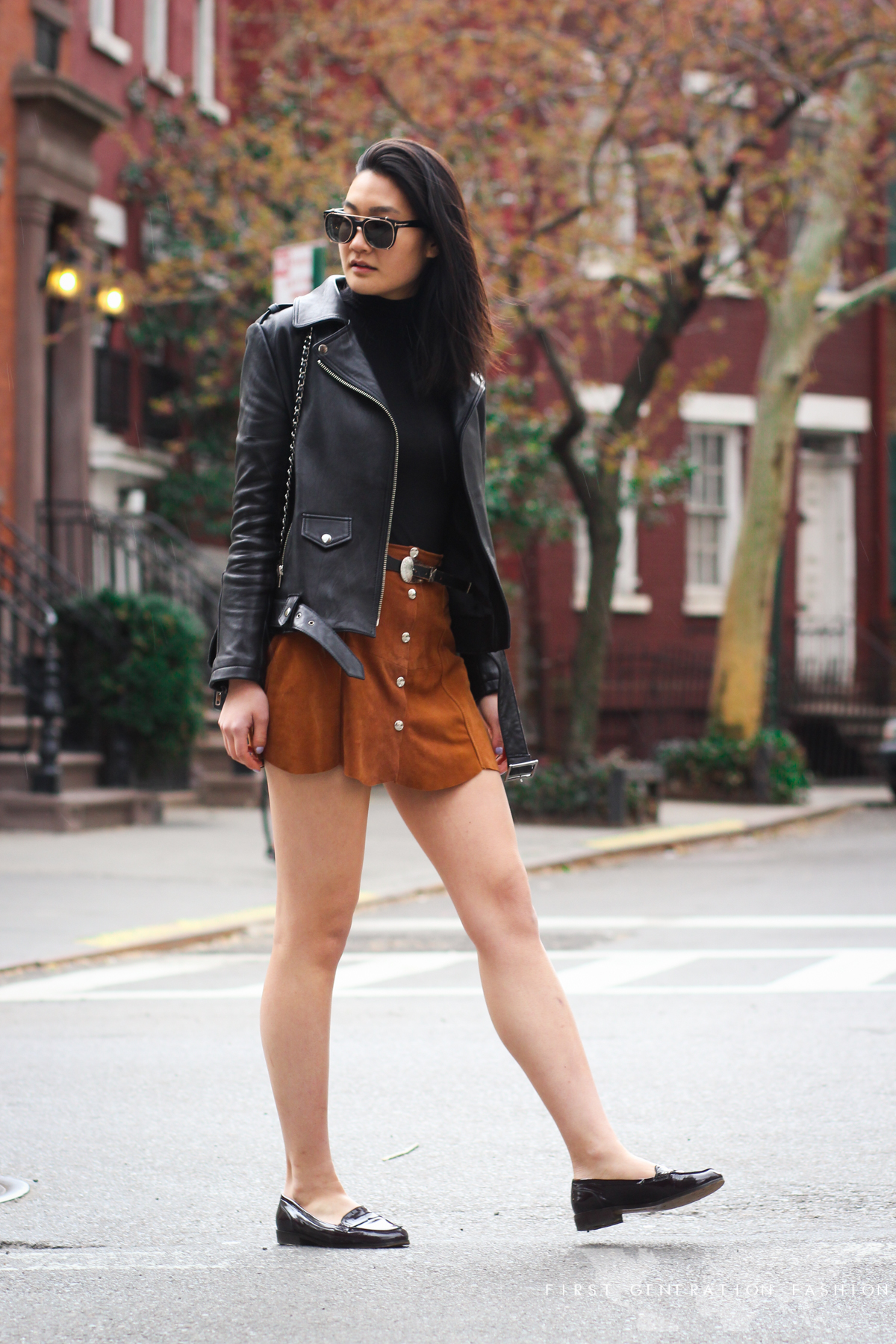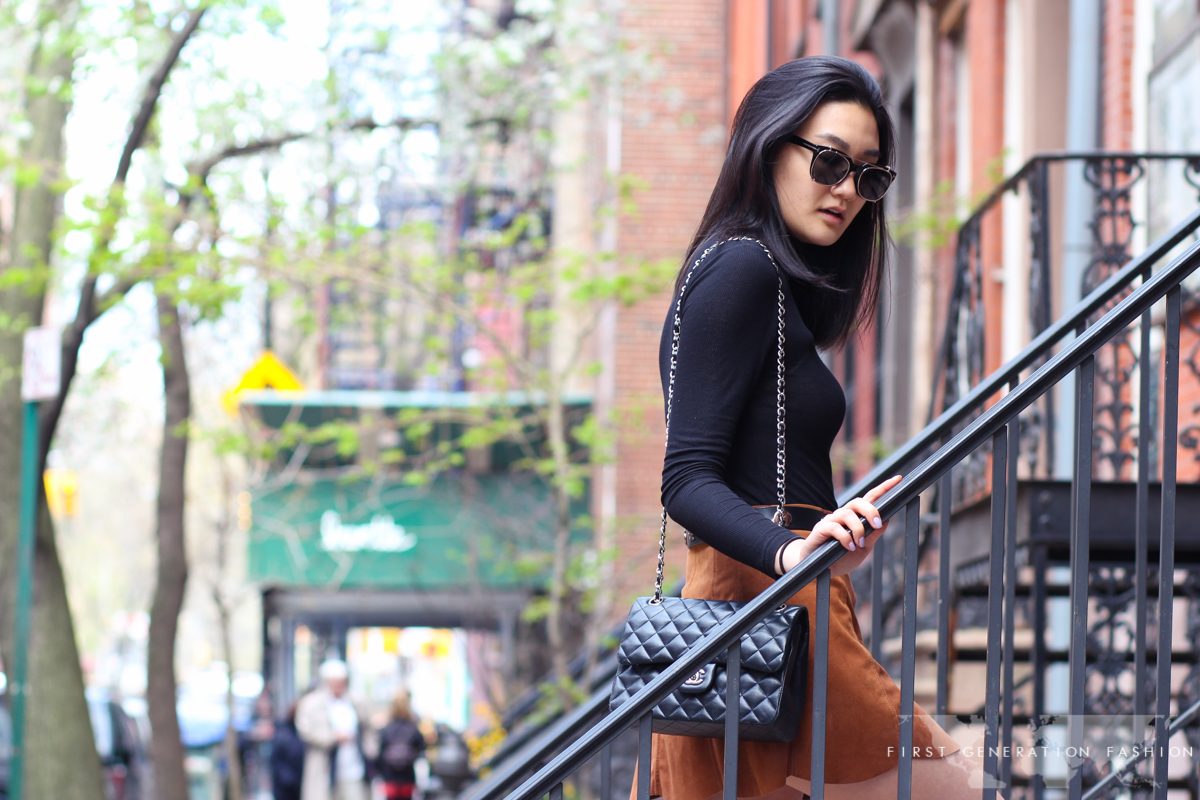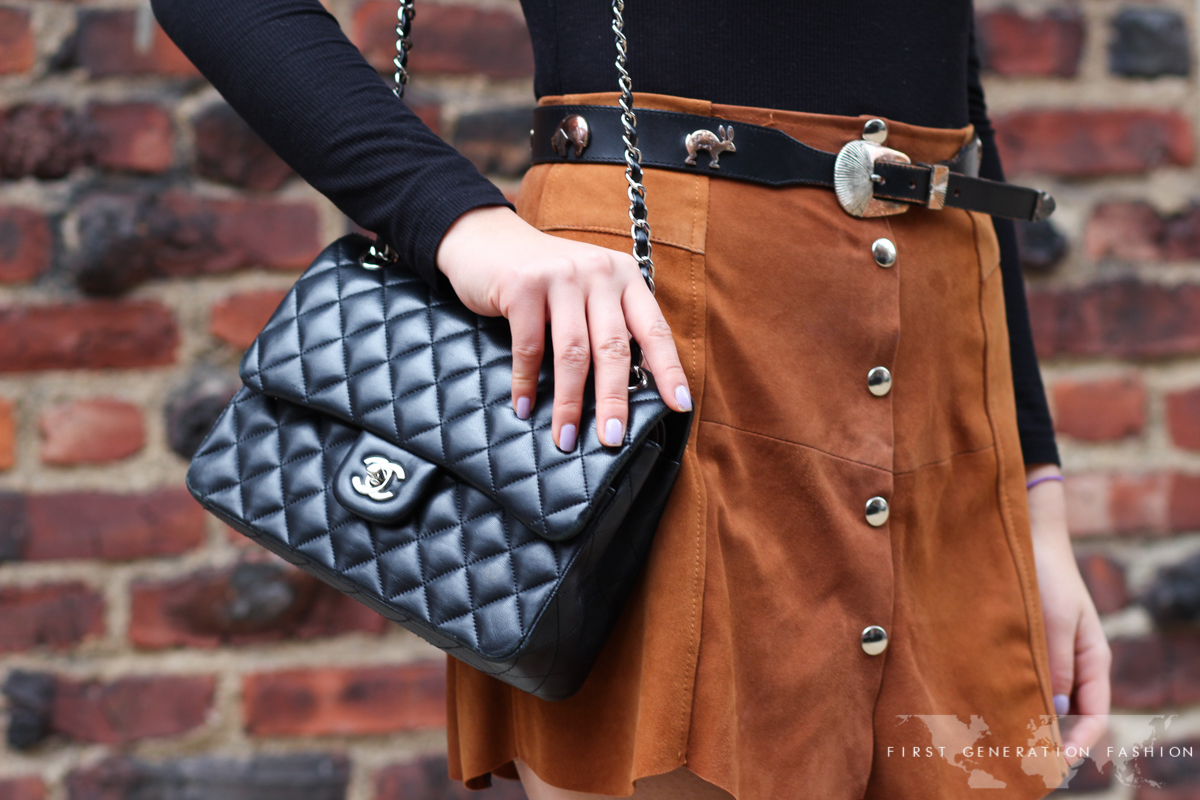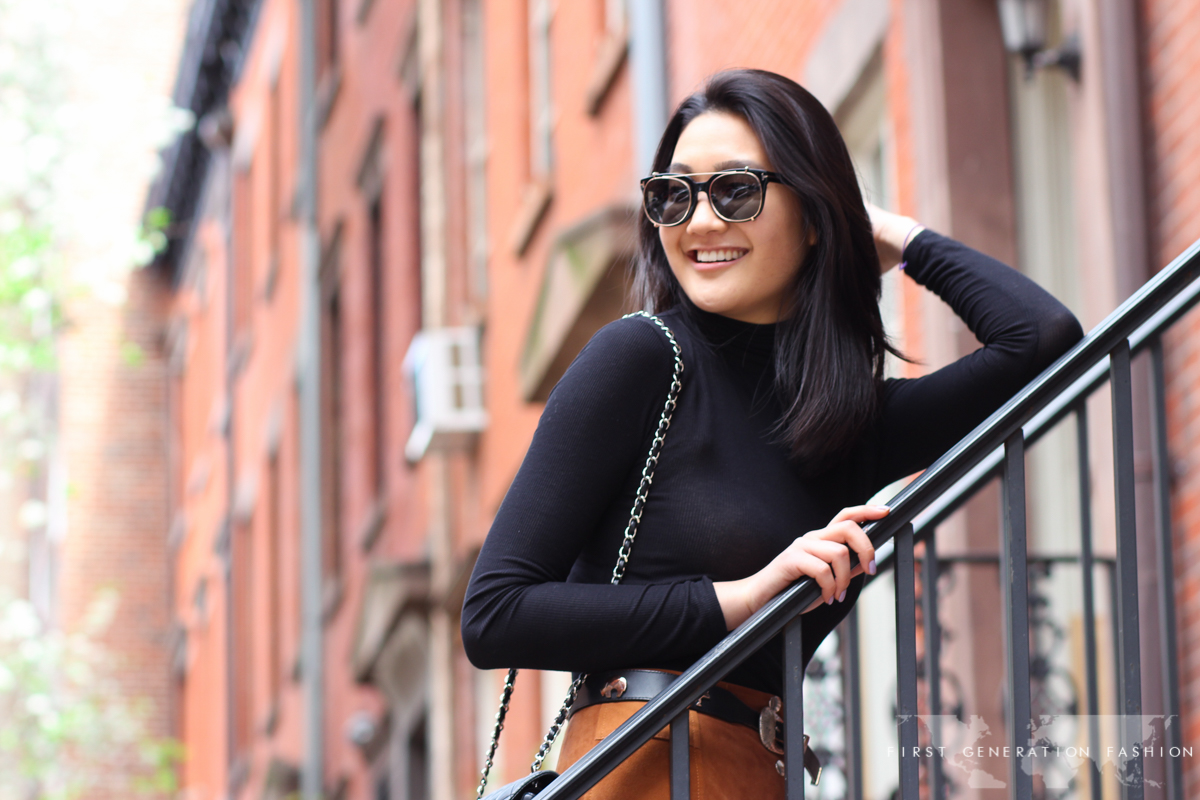 Meet the face behind City Foodie. With the help of her popular Instagram account of mouth watering #eeeeeats, Laura has established herself as the girl-in-the know when it comes to New York City dining. Laura moved from Seoul, Korea to NYC to study fashion, entrepreneurship, and business at NYU's Gallatin. Now this third culture kid is conquering the city one bite at a time, and snapping photos along the way.
Tell us about what you're wearing.
My skirt is from a vintage store that I got in Paris. I love that the suede was already worn-in and super soft. My belt is vintage from my mom. There's something so personal and empowering about wearing my mom's old clothing.
My mock neck top is from Topshop, my loafers are from Massimo Dutti, the sunglasses are Tom Ford (they turn into glasses if you remove the shades!) and finally, my bag is the classic Chanel 2.55.
How would you describe your personal style?
I would say my personal style is constantly evolving.  At the moment, my style is very minimal and clean-cut. But who knows, that might change tomorrow. New York has changed the way that I dress. I love wearing sneakers because you walk everywhere. Above all, comfort is key for me, which is why you'll see me in sneakers 90% of the time.
What sneaker labels do you like to wear for a comfortable but chic look?
So many! I'm a huge fan of Superga sneakers. I love that they come in every color under the sun, so you can have one for every occasion. Classic favorite sneakers of mine are white high-top Chuck Taylors, Airmax 90s, and recently, a pair of Saucony sneakers that have a slight platform to give me a little more height and spunk.
How do you like to consume fashion online?
I would say a lot of my consuming is through Instagram. The visual platform has made it so easy to follow brands, blogs, and personal figures to get instant inspiration across so many discipines.
Let's talk Korean skin care.
I love talking about Korean skin care. Ever since I've shifted my skin care regime to using all Korean skin care products, my skin has never been better.
Why do you think it's becoming so popular?
Koreans care a lot about self-investment and self-presentation. We put a lot of thought into caring for our skin, which always seems to be enigmatic for Westerners who value sheer simplicity and efficiency over anything.
Korean beauty companies have perfected the balance between science and nature in creating products. They're also so innovative.
Which Korean products and labels do you recommend and where can we find them?
My personal favorites are Hera and Innisfree. Both are from the Amore Corporation, a beauty conglomerate that has a wide range of high and low brands. I purchase all of my products in Korea when I go back during my breaks, but there are so many online retailers of Korean skincare brands like Sokoglam.com and peachandlily.com.
What makes Korean skincare so unique?
It all goes back to Koreans' meticulous care for their skin. A typical Korean skin care routine consists of ten different steps, each of the steps utilizing a different product. Many people might think this is excessive, but there's a reason why Koreans have such good skin… I may not go through all ten steps on a daily basis, but my typical routine consists of maybe eight steps:
Makeup remover—to get rid of the surface makeup, especially eye makeup

Oil Cleanser—a deep cleansing treatment to get off every dirt on your skin

Face Wash—self-explanatory

Exfoliating Mask—to suck out all the dirt and dead skin cells

Toner—to prep the skin for further moisture

Essence/Serum—usually targets certain problems, like spot treatment or hyperpigmentation

Cream—again, self-explanatory

Sheet Mask—super-hydrating and targeted for further treatment of dry skin, hyperpigmentation, anti-aging, etc. There's a mask for everything!
Tell us more about the Korean skincare masks.
There are different masks available depending on your skin type or a skin treatment you are seeking. My favorite masks are the "It's Real" line from Innisfree. They use real ingredients from foods such as Rice, Honey, and Acai Berry to target various skin needs.
For a Korean skincare newbie, what would you recommend as good "gateway" products.
I can't live without essence. It's an essential in-between step to prep your skin for moisturizer and has a "plumping" effect.
What's currently on your skin care "wish list"?
To be honest, I'm so satisfied with my skincare regime and products right now that there isn't really anything that I'm lusting after. I'm still young so wrinkles aren't a problem for me, but as soon as I start showing signs of age, the Sulwhasoo Concentrated Ginseng Cream will be a priority purchase. My mom swears by it.
Are there any Korean skincare trends that haven't hit the US? If so, what are they?
If you asked me this question six months ago, I would definitely say the cushion compact, but that has now come into the US market. Now, I would say products with super unassuming ingredients like placenta or snail residue have yet to catch onto the US market.
As an avid foodie, do you find that your diet choices affect your skin?
This really depends on the person. I've heard that skin is really just dependent on one's environment, hormones, and genetics. But I like to think that you are what you eat. Although genetics and hormones account for so much of one's skin, that's not to say that a healthy diet isn't important.
This is so cliché, but hydration is key. Even if I go a few hours without drinking water, I can immediately sense my skin shriveling up, especially my lips. As for foods and sweets, I don't feel like they affect my skin all that much… It will really depend on each person. If you know that certain foods are bad for your skin, then I would avoid them for sure. Skin is one of those things that are so important! Do whatever it takes to make sure you're taking care of yourself, even if that means cutting certain foods out! Your body will thank you.
For more of Laura's story subscribe to First Generation Fashion
Jacket: Uniform Clothing (similar) | Glasses: Tom Ford | Bag: Chanel | Shoes: (similar) | Skirt: (similar) | Top: (similar)
SHOP LAURA'S SKINCARE FAVORITES //

SHOP LAURA'S LOOK //